View photos from Saas-Fee village and its amazing ski station with the almost unique vertical drop of 1,800 meters! Saas-Fee is located in the canton of Valais (Wallis in Swiss German) and is the largest village in the Saas valley. Build at an altitude of 1,800 meters it is one of the most mountainous villages in Switzerland. And one of the few with a no car attitude. Visitors need to leave their cars on the central parking station and then walk around the village. Bravo Saas-Fee!
The area and landscape are truly breathtaking as the village is built on a valley surrounded by thirteen, yes 13, four-thousanders mountains (mountains higher than 4.000 meters!). The highest is called Dom, has an altitude of 4,545 meters and creates a physical gigantic wall over the Saas-Fee. This is very evident when you reach the ski area and stand right under it, where you have a 2,700m mountain wall (4545-1800) right over your head!
Access to the central parking station | Accommodation
Wham's "Last Christmas" famous song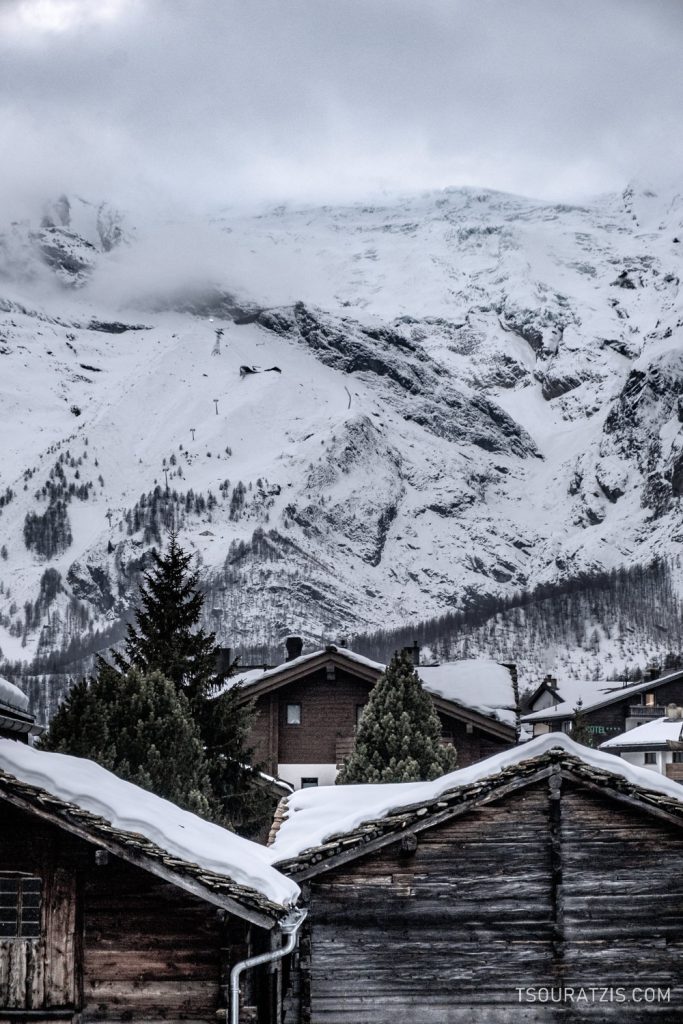 Due to its high altitude and physical location deep in the Pennine Alps, the ski station of Saas-Fee offers a 365 day skiing experience. If you visit the village during summer, it is very common to stumble upon world champions in the discipline of Alpine skiing. World class athletes go there and practice on the glacier section of the ski station at 3500 meters! For us mortals, skiing is offered from October until late April, one of the longest ski seasons on planet I suppose.
Access to Saas-Fee
You need to reach the small city of Visp in order to start your ascent to this mountainous Alpine village. From there it will take you 35 minutes before reaching the parking area of Saas-Fee where you will have to leave your car. Cars, tracks, motorcycles are not allowed in the village and only electric vehicles from the local authorities and the hotels/guesthouses are used. You leave your car, call your friends or hotel reception to pick you up or book an electric taxi to take you to your accommodation.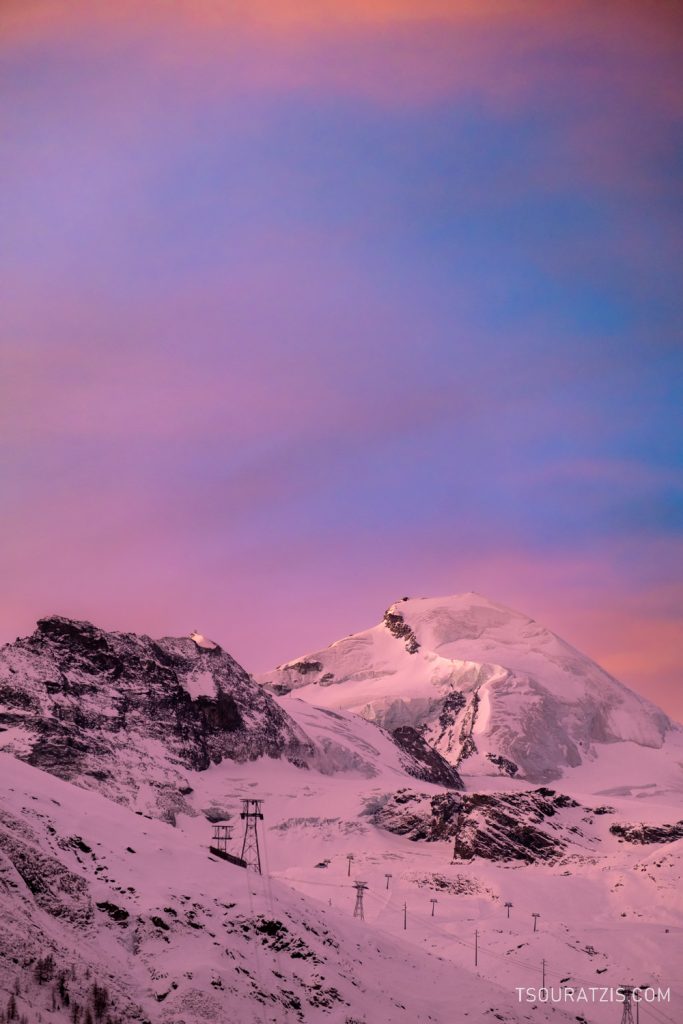 Driving distance/time to Saas-Fee village
| Saas-Fee | KM | Time |
| --- | --- | --- |
| Lausanne | 164 | 2h 05 |
| Sion | 71 | 1h 10′ |
| Bern | 126 | 2h 22′ |
| Geneva | 227 | 2h 42′ |
| Neuchâtel | 246 | 2h 41′ |
| Zurich | 245 | 3h 29′ |
Exact location to Saas-Fee parking station
46°06'40.4″N 7°55'58.6″E / 46.111220, 7.932932
Saas-Fee ski station, village and parking area map
Things to do in Saas-Fee
If you are not into skiing or weather conditions do not permit it then you can try snowshoeing to enjoy the mountain views with calm or walk around the village to fully explore it. There are many commercial stores as well and of course many restaurants and bars to have a drink or two.
During your stay and no matter if you are skiing or not, i would propose to visit, not on busy days, the revolving restaurant at Mitteallalin to enjoy spectacular views to the four-thousanders that dominate the landscape. You need to take the Metro Alpin to reach this area. There you will also find the Ice Cave Allalin, an amazing place especially for children, carved inside the Saas-Fee glacier! Search for the dragon, the penguins, the royal hall or the secret icy toboggan (not recommended for kids younger than 5)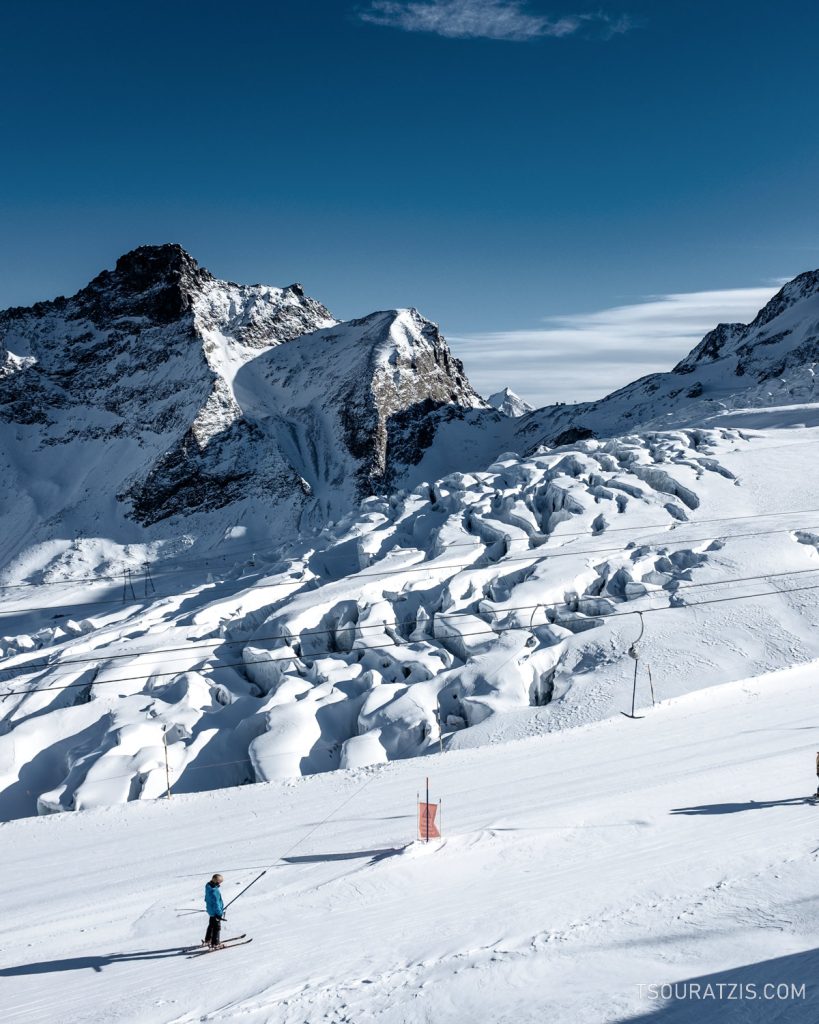 You may also try ice climbing on the glacier or if you prefer something more conventional and closer to the restaurants and cafes of the village, you may try ice scatting on the open air rink!
visit the official Saas-Fee website to discover more.
Saas-Fee ski station report
I consider Saas-Fee ski area and slopes an ideal playground for skiers and snowboarders with some considerate experience, that is Intermediate and advanced skiers. The reason is that Saas-Fee has many black and red slopes compared to other ski stations in the area. This is great if you are a good skier but as a beginner I would recommend to stay low and prefer the slopes close to the village. If you go high, then you will surely have to ski some really demanding reds which in other ski areas would easily be marked as black! And keep in mind that on weekends or holidays these can be really crowded, making it even harder for a beginner to ski down to the village.
Having said all that, visiting Saas-Fee village and skiing at its ski station is a unique experience not to be missed if you find yourself in Switzerland. The views are stunning and the village has some left spots that can remind visitors how traditional Alpine villages used to look like in the past.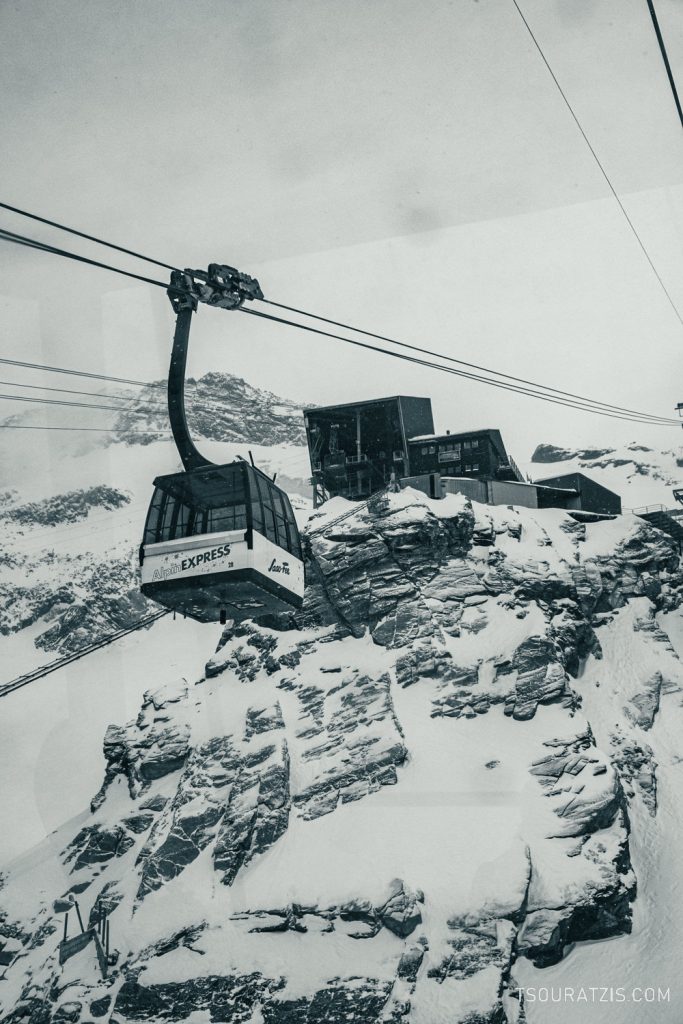 Saas-Fee ski resort review
Pros
A nice village with many accommodation options.
Stunning views wherever you look. Either from the village or from the ski station, the scenery in front of your eyes is unique.
Want to take the chance and visit/use the highest railway in the world? Metro Alpin will take you from Felskinn at 2,980m to Mittelallalin at around 3500 meters!
At Mittelallalin, check the revolving restaurant with its 360 views or the very impressive Ice Cave Allalin.
Challenging slopes to test your skiing abilities.
Snow coverage guarantied due to high altitude.
Cons
Expensive ski pass and rather on the expensive side on average. (if you live in Switzerland you may take advantage of the Magic Pass and visit Saas-Fee ski station with no extra cost). Parking area is expensive as well. For a 6 or 7 night stay we paid close to 110 Swiss francs.
I know it is a long way to the top and that 3500 meters are not easy to reach but i personally dislike funicular lifts with queues or long waits. And in Saas-Fee, you will definitely have to use them if you want to go around the whole station. In addition, on weekends or busy days the waiting time for the Metro Alpin can be really long, one day we waited 30+ minutes, standing, in order to get into the Alpine train!
Not ideal for beginner skiers.
Verdict
A must see ski village and station for many reasons. Discover them viewing my images from the two times i have skied there.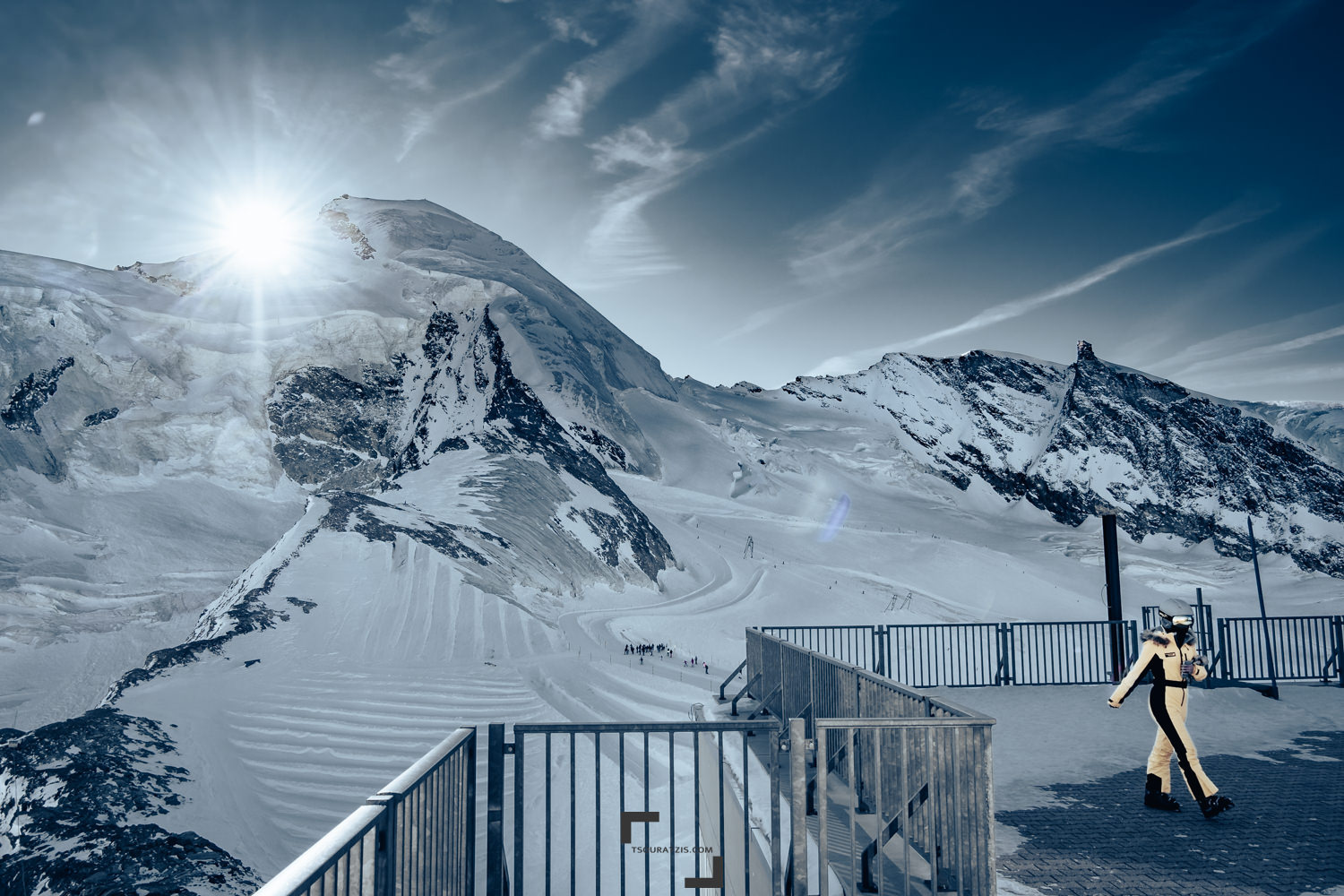 Valley run
There is a very popular youtube video (check it below) showing two ski instructors descending from 3,500 meters all the way down to the Saas-Fee village at around 1,800m. This is a impressive and rare to find elsewhere 1,800m altitude difference ski ride! And they ski it at one take, no stop, no rest, just amazing ski.
Before trying to do the same please consider some things. Not all skiers have the same physical condition as they do. Nor do we have their skiing skill level or their age. But even them, in order to do it as easily and relaxing as this video shows, they use what is called an exoskeleton, a product adapted to their knees enabling them to increase their performance by reducing leg and knee stress and fatigue. It is a product i might not use in the near future as i prefer to have breaks while skiing in order to enjoy the usually amazing mountainous views.
So, you should definitely try this amazing 1800m descent, that can be done in two or 3 different ways following different routes and sides of the mountain. And don't forget to take breaks. Saas-Fee red runs are really tough at some points, so no need to rush it.
Accommodation in Saas-Fee
Photos from Saas-Fee ski station and village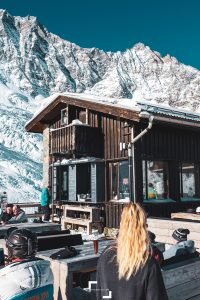 Video of Saas-FEE valleΥ run
Mountains surrounding saas-fee
as mentioned in the beginning of this article, there are 13 four-thousanders, mountains more than 4,000 meters of altitude, around Saas-Fee. Have a look at this table to get an idea (sorted from higher to lower)
| Peak | Elevation |
| --- | --- |
| Dom | 4,545 m (14,911 ft) |
| Täschhorn | 4,490 m (14,730 ft) |
| Nadelhorn | 4,327 m (14,196 ft) |
| Südlenz | 4,294 m (14,088 ft) |
| Stecknadelhorn | 4,242 m (13,917 ft) |
| Hohberghorn | 4,219 m (13,842 ft) |
| Alphubel | 4,206 m (13,799 ft) |
| Rimpfischhorn | 4,198 m (13,773 ft) |
| Strahlhorn | 4,190 m (13,750 ft) |
| Dürrenhorn | 4,034 m (13,235 ft) |
| Allalinhorn | 4,027 m (13,212 ft) |
| Weissmies | 4,023 m (13,199 ft) |
| Lagginhorn | 4,010 m (13,160 ft) |
(source: Wikipedia)
"last christmas" song from Wham
Probably the most famous and loved Christmas song was released back in 1986 by the pop band Wham! Wham!'s singer was no other than the super star George Michael who wrote this song! Although this song was a massive hit it never reached #1 until 2022, that is 36 years after its release!
As you may see on the screenshot below, most, if not all, exterior scenes of the "Last Christmas" video clip were filmed at the village of Saas-Fee where the company of friends resides on a chalet.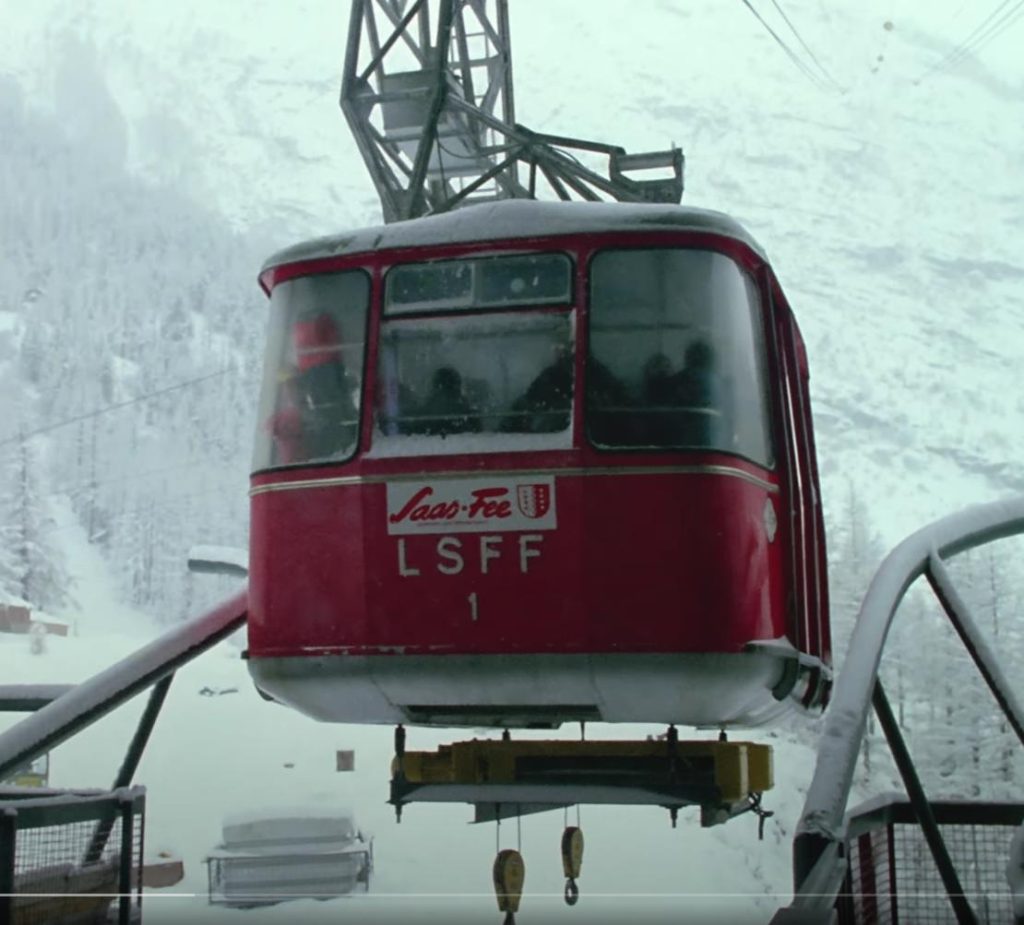 Check out Last Christmas 4K video clip and discover the ski resort of Saas-Fee in an unexpected way 🙂
if you are interested to learn more about this song you may find an interesting article here (Andrew Ridgeley, the other member of legendary pop group Wham!, also shares some inside info)