Valais is the canton in Switzerland with the most ski resorts in the Swiss Alps. Among them you will find many famous names that are super popular destinations not only for people living in Switzerland but also for tourists all over the world. Just to name a few? Verbier, Crans-Montana, Zermatt.
Do you want more?
Well, lets discover now the amazing ski resorts in Valais with some of the photos I took while skiing there and videos I share on my YouTube channel.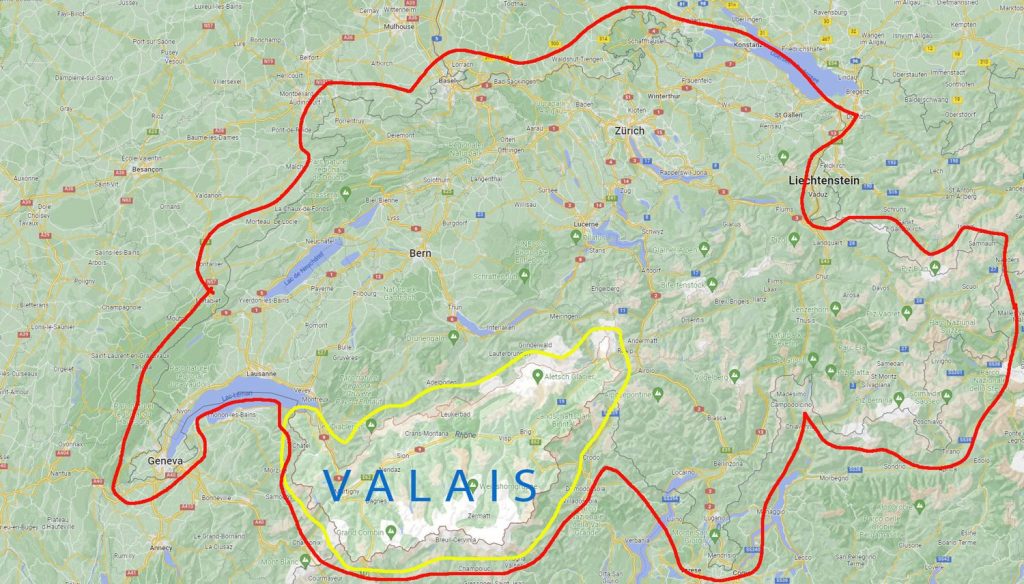 To begin with, I would like to make our life easier by segmenting Valais and its ski resorts into a kind of geographical regions. I will talk about valleys and slope orientation, east and west of course and finally local language spoken there. Keep in mind that Valais is split in two parts by the Rhone river valley where Sion, canton's capital, and Sierre cities are located.
So, the areas mentioned above are the following:
The west side of Valais and closer to Geneva airport ski stations. This is

a) the

Swiss side of Portes du Soleil

called 'Regions du Dents du Midi' and

b) the family ski station of

Marecottes

.

The

4 valleys (Les 4 Vallées)

ski stations on the south part of the canton

The mountains on the north side of Valais (French speaking ski stations)
Val d'Herens

ski resorts

Val d'Anniviers

ski resorts

(check out the amazing Griments village and ski station)
Swiss German

speaking ski stations on the east side of the canton.
Valais ski resorts map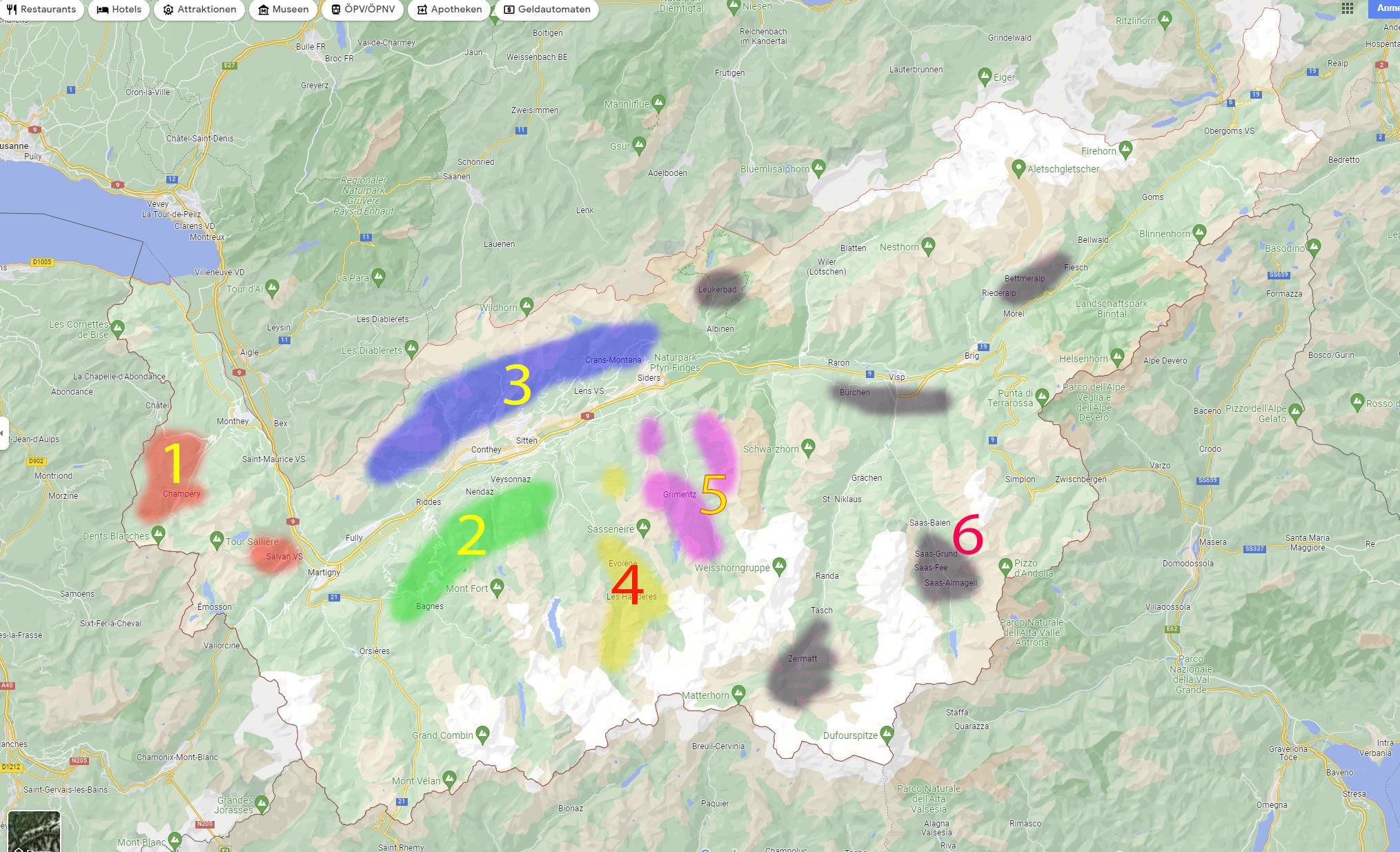 Lets start with number #1
Region dents du Midi and swiss Portes du Soleil ski resorts
The Swiss part of Portes du Soleil ski domain, one of the largest in the world, extends from the ski station of Champery until the village of Morgins. In between, you will find the villages and stations of Les Crosets and Champoussin. Champery ski station is connected with the french side of Portes du Soleil and in specific the renowned ski resort of Avoriaz.
On the other side, Morgins ski station connects with the french ski resort of Châtel. As a result, many times you will ski in both France and Switzerland which although does not change much regarding skiing, it is good to know and or share on your social media 🙂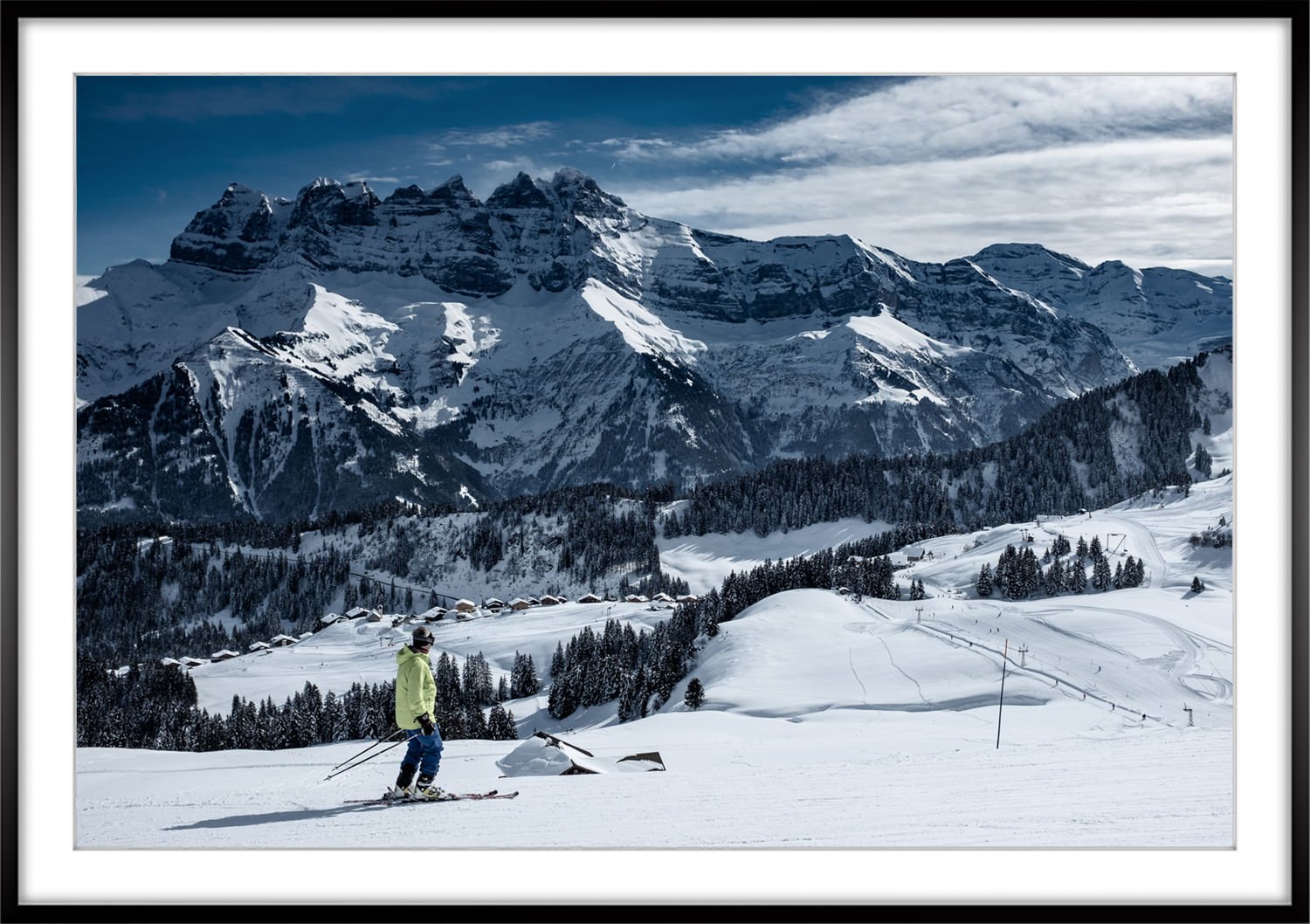 The whole region is called Regions du Dents du Midi where Dents du Midi is an iconic mountain range that dominates the landscape offering breathtaking views from many parts of Portes du Soleil ski domain, including the French part of course.
Ski video from Dents du Midi region and the Swiss Portes du Soleil
The other station of this Valais' area is the ski resort of Marecottes. Compared to Dents du Midi is tiny but a perfect spot to meet the beauty of the not so popular side of the Swiss Alps. I have visited it once and looking forward skiing there again next year.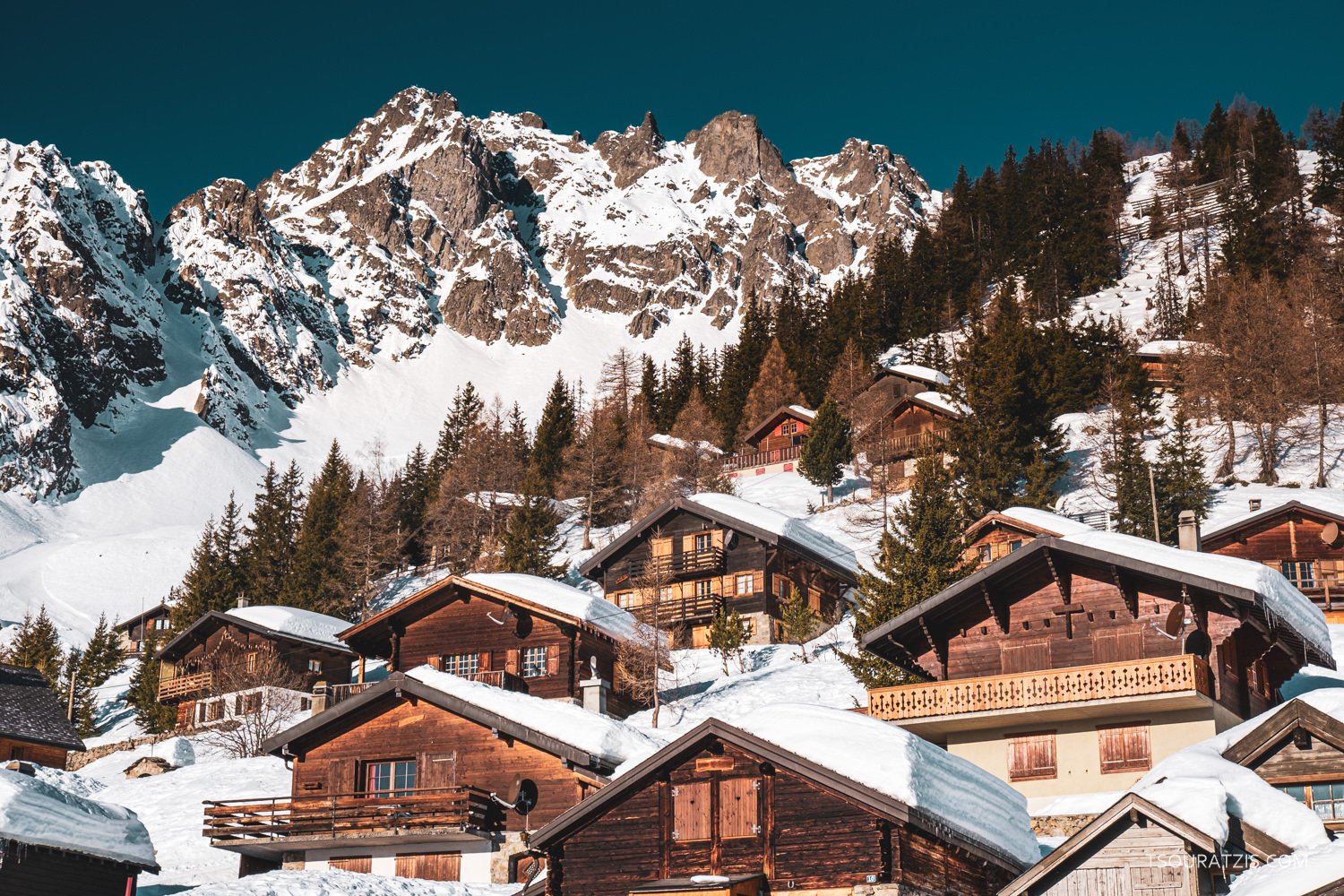 Next, number 2 on this DIY Valais map is the vast ski domain called the 4 Vallées.
4 Vallées ski domain in Switzerland
It is the largest ski area located entirely in Switzerland and offers excellent ski conditions from December till 15-20 April due to its north facing orientation that prevents its snow from melting as easy as we will see on the next ski area in Valais.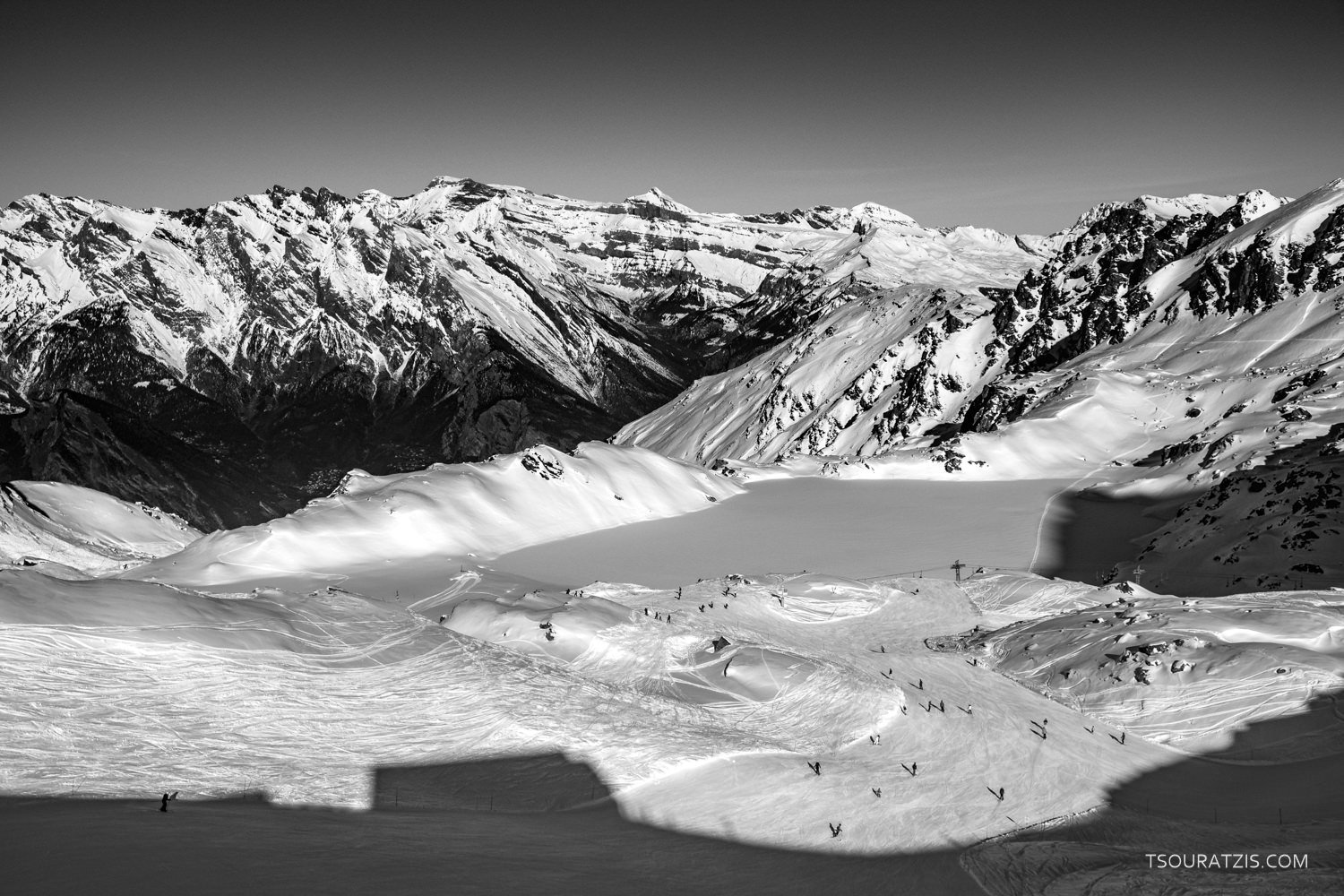 The largest ski station there is the cosmopolitan ski resort of Verbier, a favorite ski destination by many British and other European tourists. Verbier is famous not only for its amazing ski runs and high altitude skiing, highest point at around 3,300 meters (Mont-Fort), but also for its luxurious accommodation offerings and its après ski and night life.
Verbier is of course connected to the rest of the 4 Vallées stations where skiing is equally good and crowds maybe a little quieter. Nendaz, Thyon 2000 and Veysonaz are the most important sections outside Verbier 4 Vallées ski domain.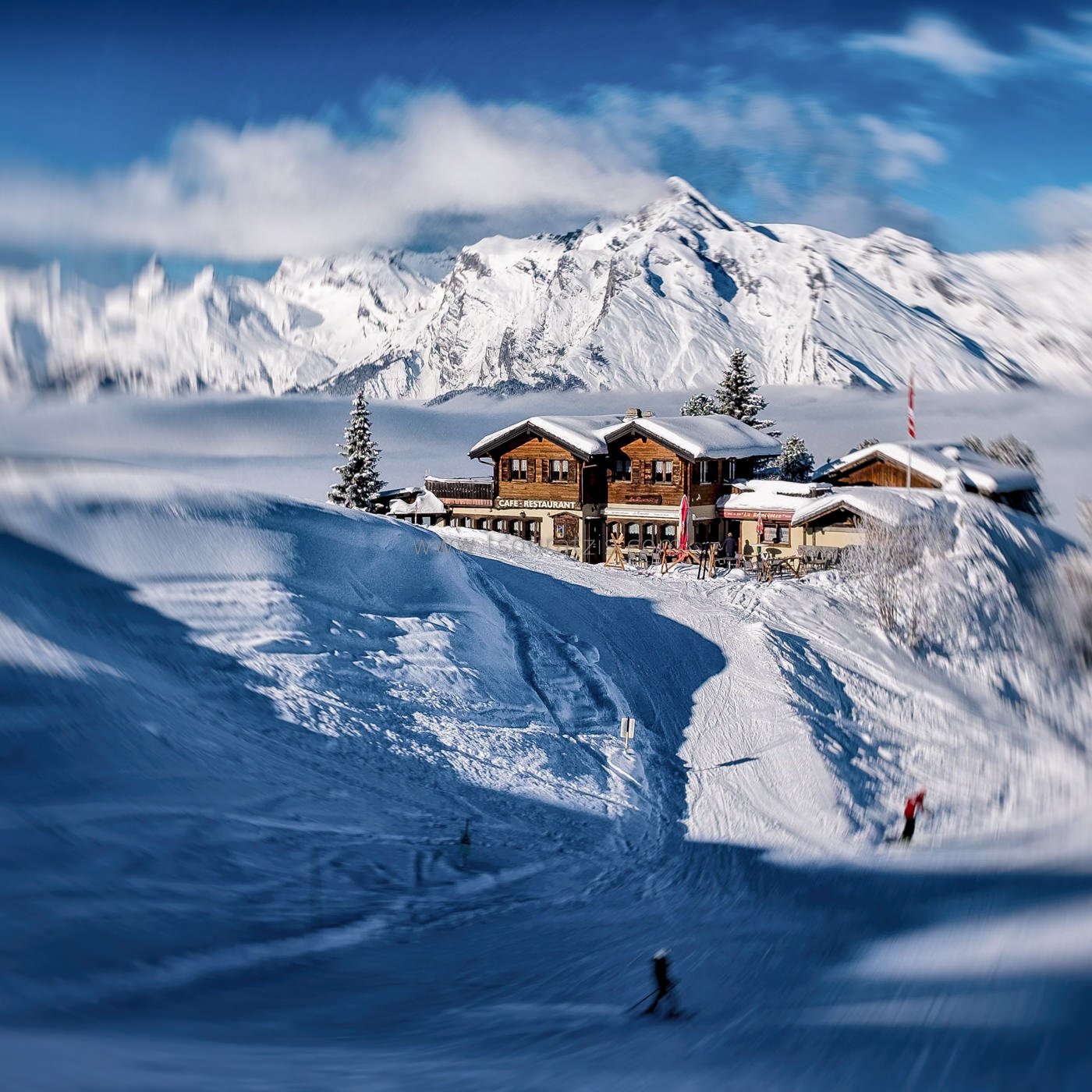 Closer and connected to Verbier but not to the other ski stations of the 4 Vallées ski domain is the station and ski resort of La Tzoumaz. In general, It will take you some days to fully explore this ski area but take your time as every run on it is worth enjoying. Views to Rhone valley are stunning and ski is usually great there.
Crans-Montana, Anzère and Ovronnaz ski resorts
Next on our exploration of ski resorts in Valais canton is number 3, the area and mountains opposite of 4 Vallées where the most famous and largest ski resort is that of Crans-Montana.
But lets take things from left to right or from west to east as you see the map and area 3.
The first Valais ski resort and village there is Ovronnaz. This is a rather medium sized ski resort that is perfect for a one or two day visit. What is great about Ovronnaz is its thermal baths, great for relieving your leg and back muscles after a day or two on the ski slopes. Ovronnaz thermal baths offer stunning view to the Swiss Alps and have probably the best water pumps for massaging your whole body. Sauna is nothing special (2019 visit), hammam could be better or larger, bubble beds are great. I will definitely go again for the views, the swimming pools and the water pumps that constitute an amazing body recovery tool after a long day at Ovronnaz ski station.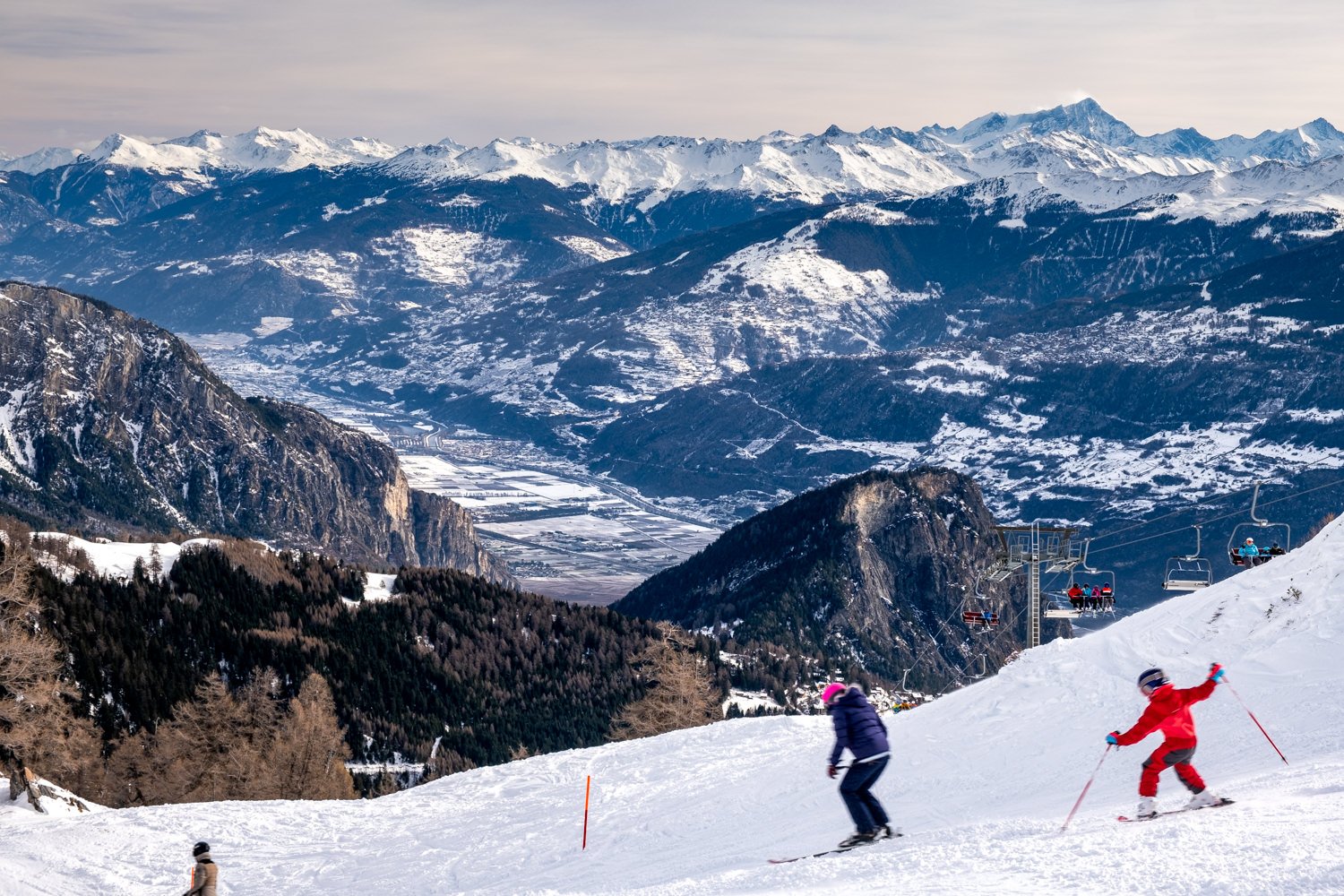 Next ski resort in section 3 of our custom made Valais map, is the ski station of Anzère. I really enjoyed skiing there, station size is big enough for the weekend, slope quality and variety is great, views as well and the black run all the way down the ski station's base is really tough if you leave it for the end of the day. What i did not like in Anzère is the quality of its ski lift, there are some that are slow and small, creating huge queues some weekends or on other special occasions days.
Next, is the ski resort of Crans-Montana. Probably equally famous as Verbier, Crans-Montana is the ski station of 2 villages, yeap, you probably guessed it, Crans and Montana 🙂
Skiing there is amazing as you will find slopes for all level and kind of skiers. Altitude is very high reaching a glacier at around 3000 meters and the ski area is so big that it will take you at least 2 full days to explore it all (this is subjective of course but you get my point). You can view my ski video below to get an idea of Crans-Montana ski resort.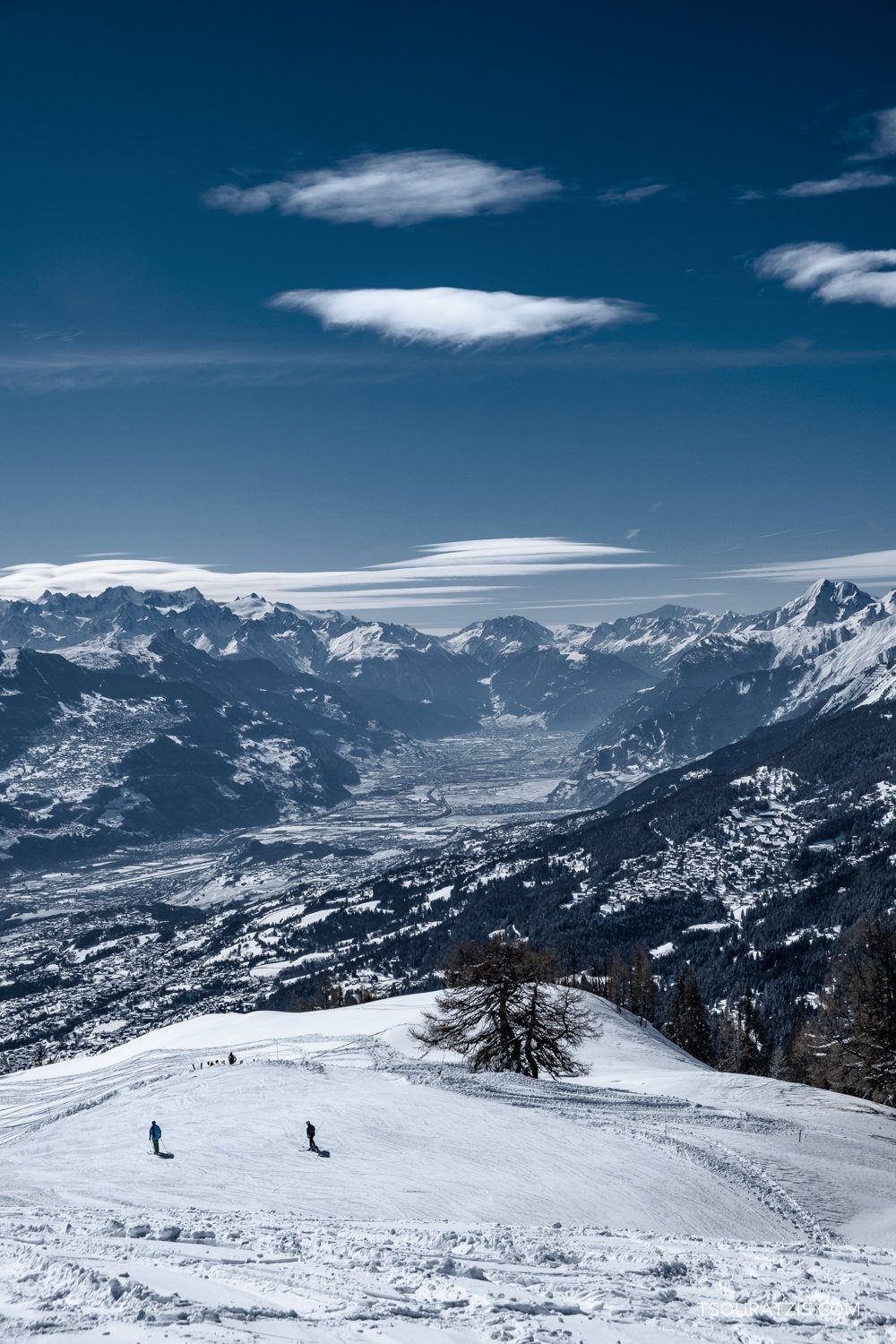 Before moving to the following section a comment about this ski area. Number 3 area is a great place to enjoy the sun and the clear blue skies of Valais canton which is indeed famous in Switzerland for the highest number of sunny days. This is great for most of the winter but it becomes of a problem as we approach spring time.
Ski runs are heavily exposed to the sun and snow quality deteriorates fast during March compared to the other side of the mountains where 4 Vallées and other Valais ski resorts are located. Sunny days on the slopes and warm temperatures are usually a blessing for most people that enjoy skiing in the morning and sun bathing the rest of their day but not for me that I usually ski all day long. Keep this in mind, if you plan to visit these ski resorts in late March or April.
Ski video from Crans-Montana in the Swiss Alps
Val d'Herens ski resorts and Nax station
Area number 4 is probably the smaller area or the one with the smallest in size ski resorts in Valais. It includes ski stations in an area called Val d'Herens (that includes some parts of the 4 Vallées ski domain, but this becomes a little complicated here so I leave it with no further comment) and the family station of Nax.
Val d'Herens area offers some small but truly amazing ski stations. The first one is called Evolène, it is also a traditional village in the valley, with high altitude skiing and great views to the valley and Dent Blanche mountain standing at 4,358 meters altitude. The 2-seat chairlift that will take you up is so old and slow that is most probably suited for a hypothetical ski museum. Nevertheless, I really enjoyed the ride as it really takes you back in time where skiing was slower and probably not so crowded.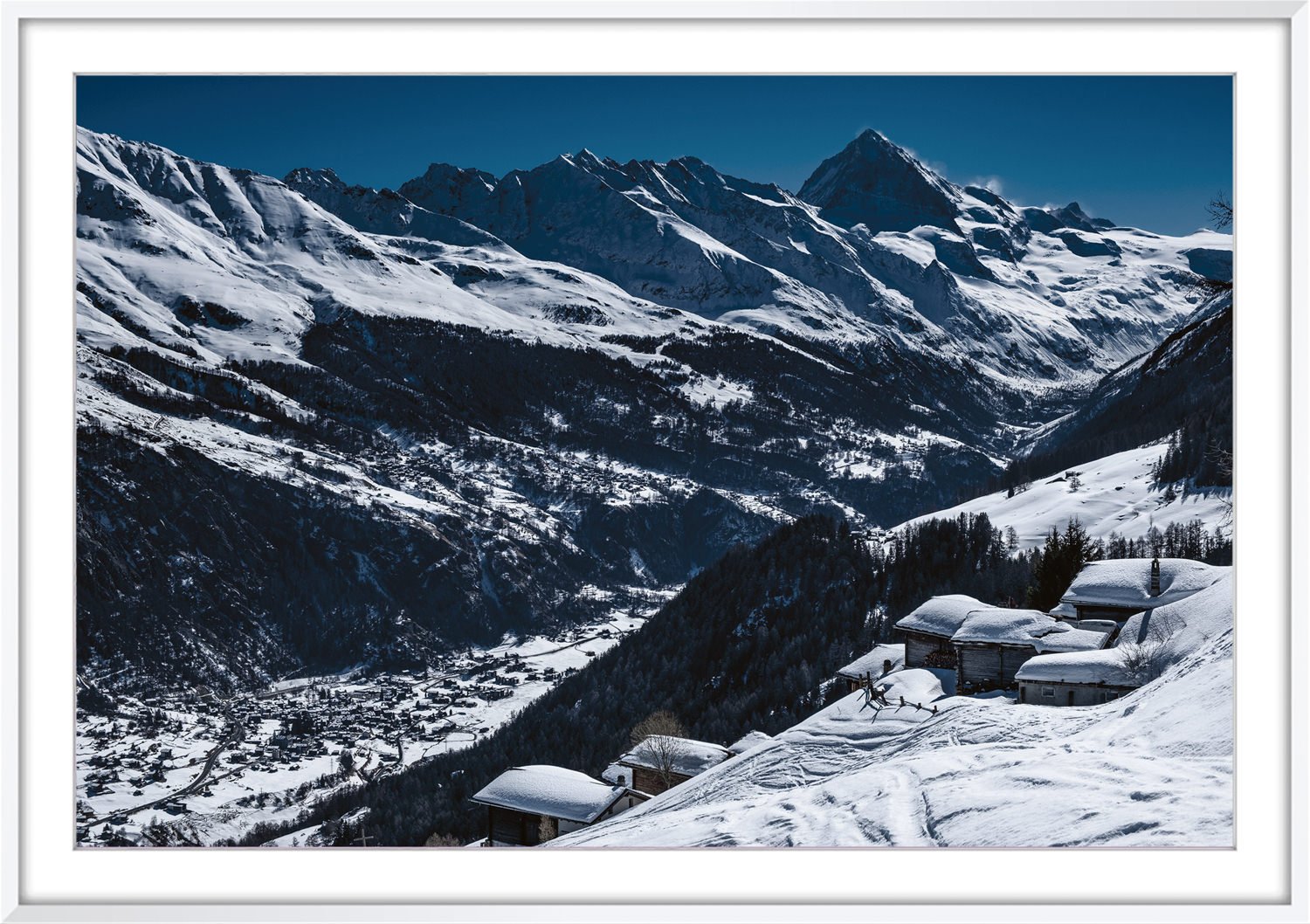 The most distant ski station in the area and probably in Valais is called Arolla. It is one of my favorites due to its amazing top to bottom ski run that takes you from 3000 to 2000 meters. It is a small ski station with only t-bars and no chair lifts (this is really tiring after a couple of hours) but the perfect place to enjoy the serenity of the Swiss mountains and some amazing quality skiing. Have a look on my video from Arolla ski station to see why. Finally, in Val d'Herens you will also find the La Forclaz ski resort that I have never visited (it is usually close whenever I check this station, maybe its a coincidence.)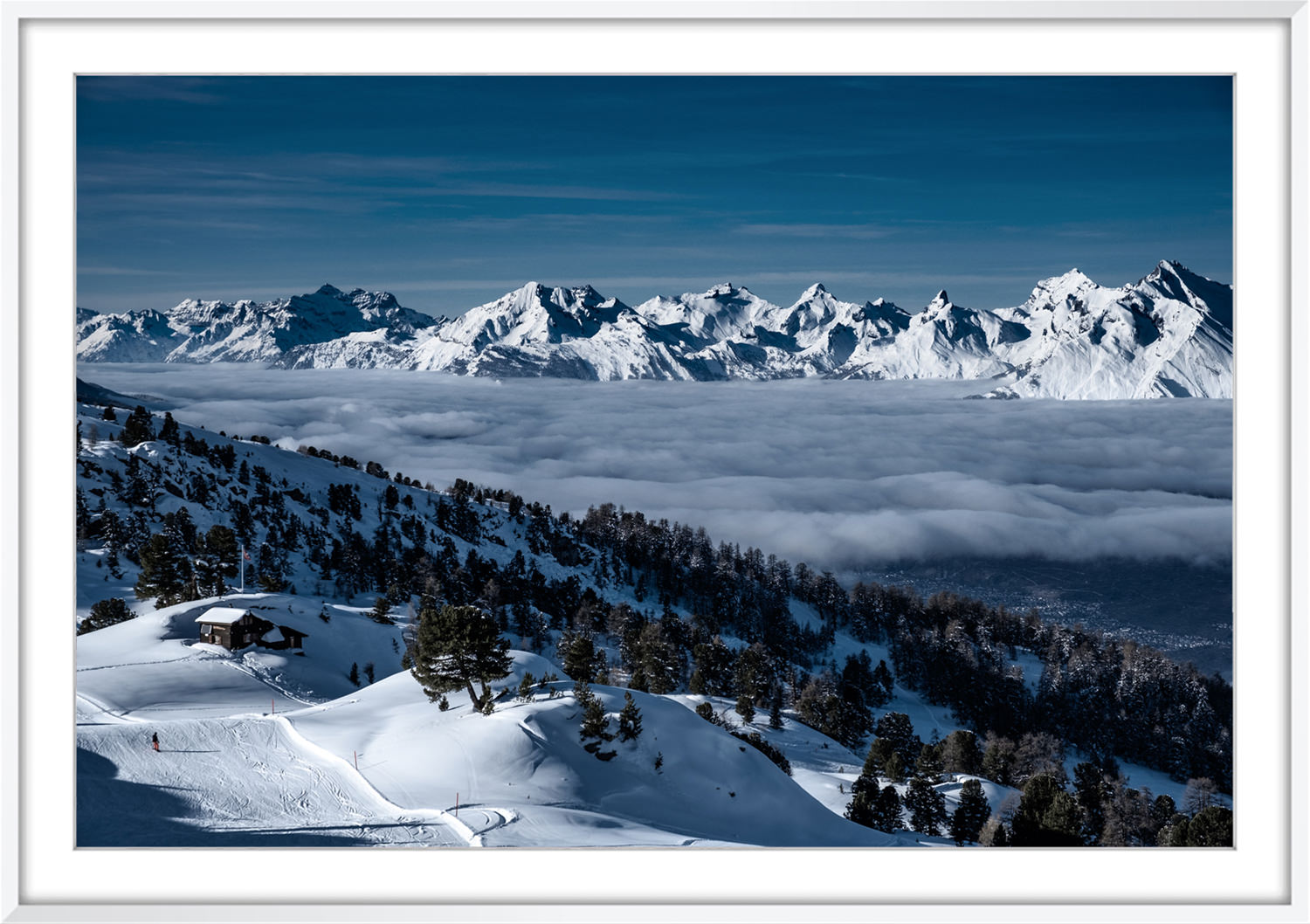 Nax ski station, although does not belong to Val d'Herens ski domains, it is very close and easily accessible from Sion city. It is a small to medium size station with old chairlifts that on busy days struggle to keep up with the influx of skiers, creating large queues and delays. Nevertheless, the ski runs and the views to Rhone valley and the surrounding Alps are breathtaking! You can ski on wide alpine zones or go through dense forests from high altitude all the way down to the base.
Val d'Anniviers ski resorts
Probably my favorite ski area in the Swiss Alps. There are five ski resorts and 3 ski areas but lets take it from the start. Vercorin is the first ski resort and village on the list. It is not connected to any other domain and it has a separate car access from the other ski stations in the area as it is accessed from Chalais and not from the entry point to the valley and the rest of the ski areas there.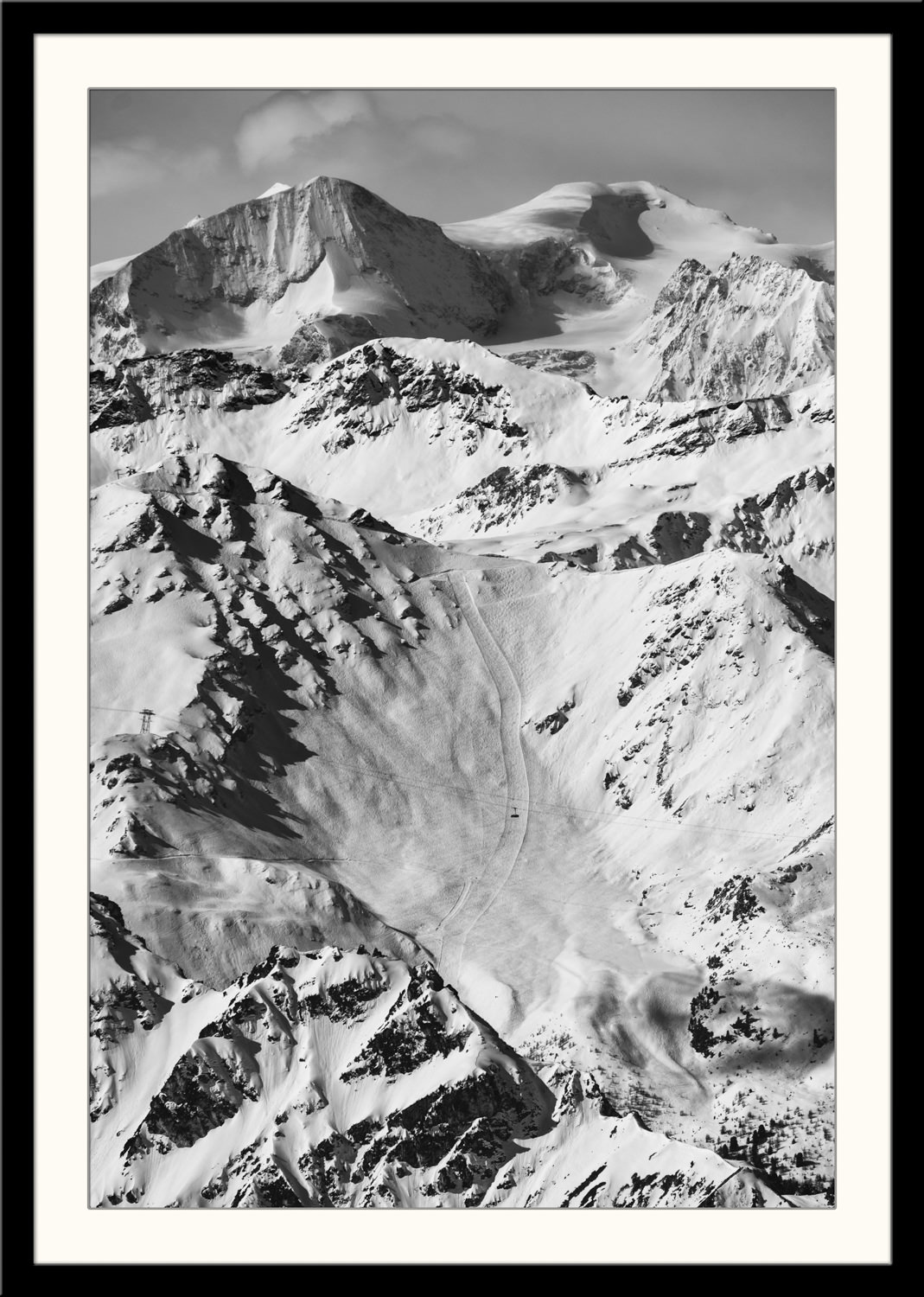 Vercorin is a medium sized ski station with nice runs and views. If there is not much snow in wintertime, you can drive directly from Vercorin to Grimentz village. It is a nice shortcut road that will give you the chance to see some small and truly "forgotten" villages in the area.
The big names and ski domains in Val d'Anniviers are the following: St-Luc/Chandolin and Grimentz/Zinal. These 4 are traditional villages and ski resorts that are connected in pairs. St-Luc and Chandolin are not distinguishable ski stations as you can ski in and out of these areas without noticing.
Ski video from St-Luc and Chandolin in Val d'Anniviers
Grimentz and Zinal on the other hand are more separate as there is only one run (the amazing black slope of Chamois) that connects Zinal to Grimentz and not the other way around as you need to take the big telecabine/gondola (every 15 minutes) to take you back to Zinal ski station. Both ski domains are truly exceptional with high altitude snow sure ski runs, amazing views to the surrounding mountains, nice charming and traditional villages with great, although limited if you don't book early, accommodation options and really challenging ski runs from 3000 meters to 1500-1700m bases and villages.
All ski runs take you down to the villages and if you are a good level skier you should definitely try Chamois black run, from Zinal to Grimentz, and the valley/base red and black runs from the top of Grimentz and Zinal ski stations to the respective villages (from around 2900-3000m to 150-1600 meters).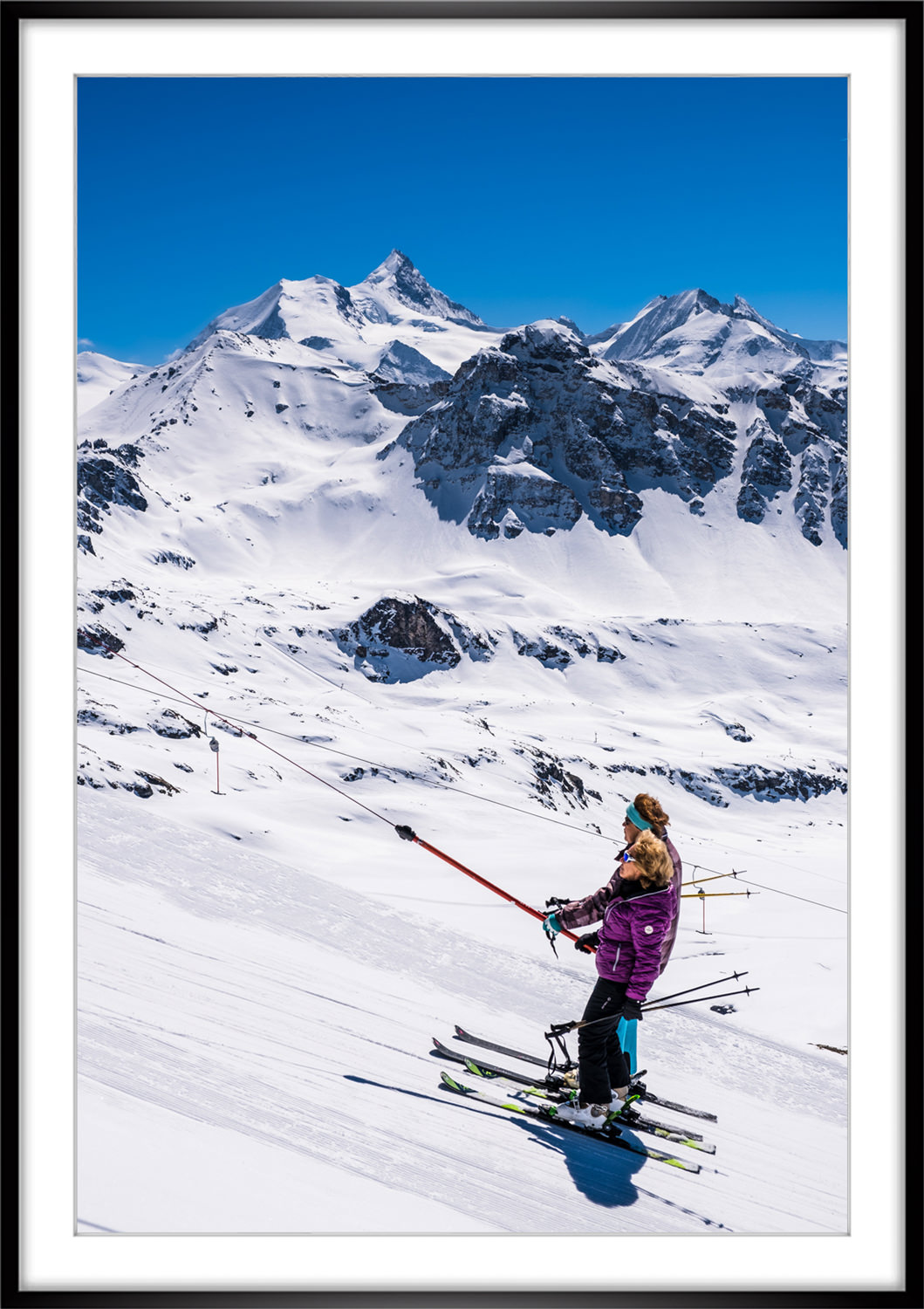 A slightly easier but equally impressive valley run is the one in St-Luc and in specific from Bella Tola at around 3000 meters to 1700m. This is blue-red slope with only a few more challenging parts. There is a regular bus that will get you back to St-Luc village in 5-10 minutes, from where you can return to the ski area, so most skiers leave this run for the end of the day, where bus can become really crowded.
Zermatt, Saas-Fee, Laukerbad and other ski resorts and stations
Last area on this short feature story dedicated to Valais ski resorts is sector number 6 where I include most of the ski resorts in the Swiss German speaking area of Valais canton, which in local language is now called Wallis! This is a real peculiarity of Switzerland, where you drive from one village to another and suddenly the language on the street signs and around you changes completely.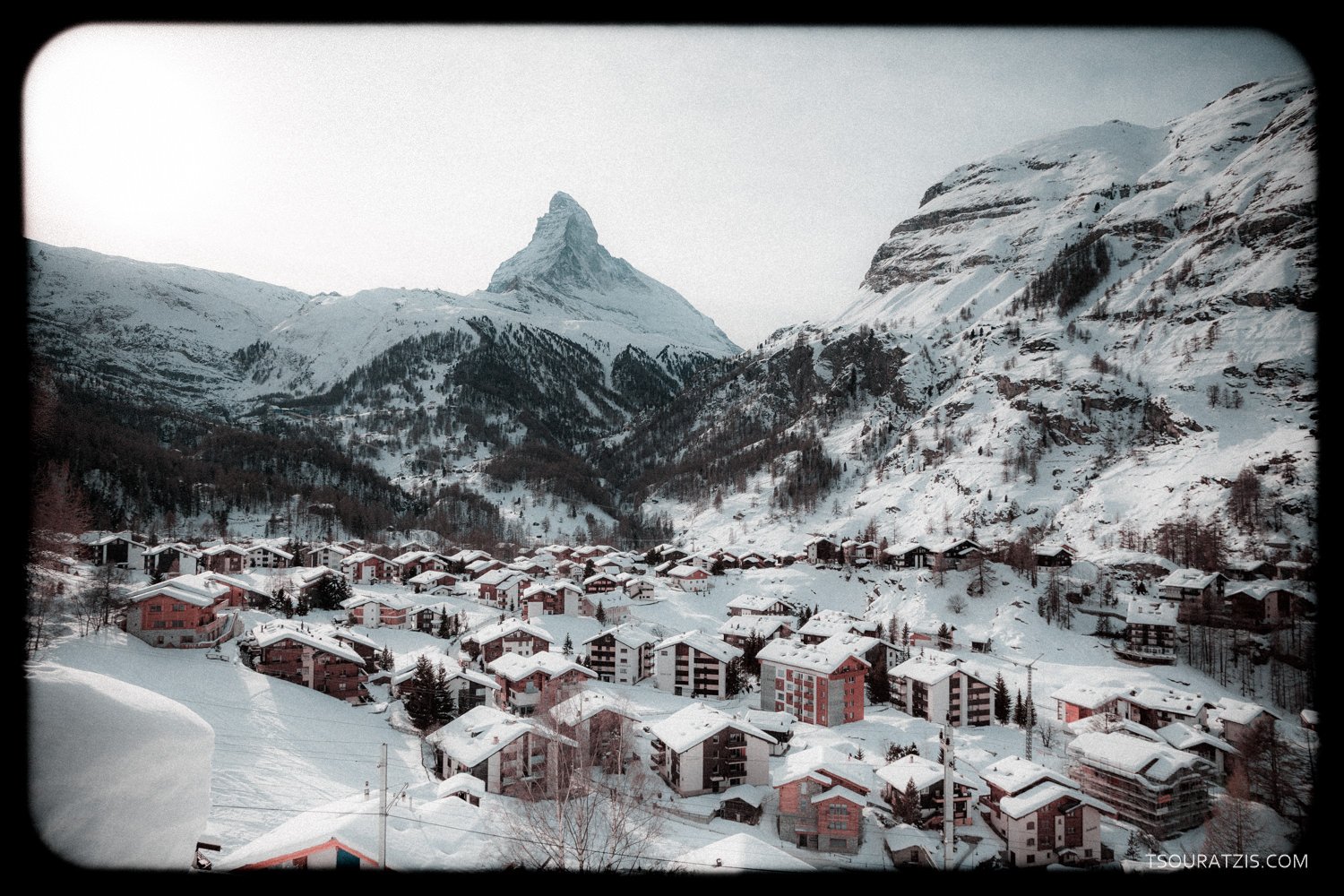 In the German speaking area of Valais, the most celebrated and popular ski resort is of course that of Zermatt. I have visited the village and some of its ski runs as a hiker and not skier because back in 2012 I had not started skiing. (I started a few years later at the age of 40). Zermatt ski resort has been voted many times as the best ski station in the Swiss Alps and there are many reasons for it. I will name just a few such as high altitude and snow sure skiing, in fact it is probably the highest altitude ski station in Europe where skiing is available all year round.
Then, it comes to size. Zermatt ski station is enormous, even if you do not include the Italian part of it (Breuil-Cervinia), the Swiss side which is the largest, is huge. Then it is the view. Matterhorn (Cervin in French and Cervinia in Italian), at 4,478 meters, is the peak that dominates the landscape. It is also something like the national symbol of Switzerland with its very characteristic and really beautiful shape, viewed as such only from around Zermatt village.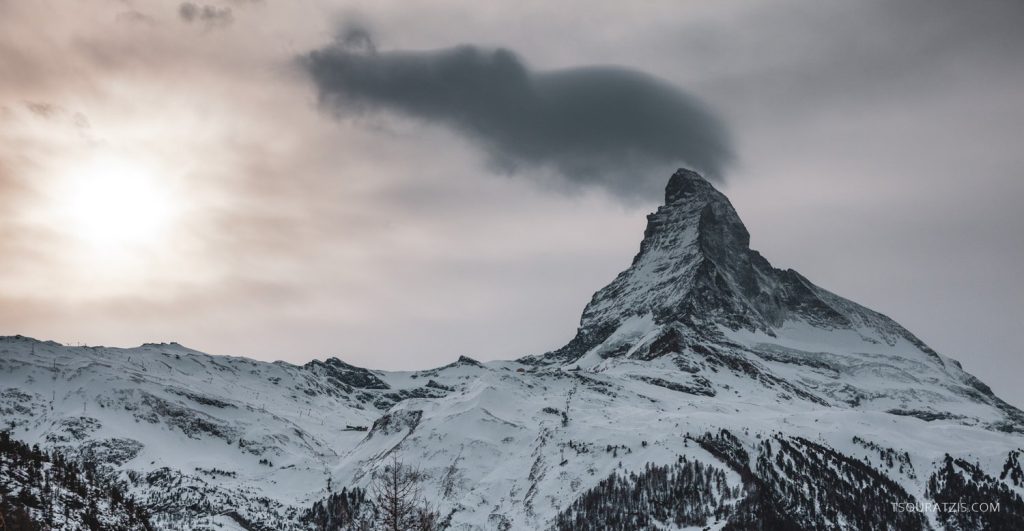 The village of Zermatt is cute although due to its size you may also call it a small country town. It is full of accommodation options for all pockets, usually for the rich and famous but still accessible to most, commercial stores for all tastes, the same is true for its restaurants. Zermatt village is not accessible by car, you need to take the train from Täsch, that is also a good thing.
The other ski resort and village where cars are prohibited is Saas-Fee. It is easier though to reach it as you just leave your car on the parking station outside the village, call your hotel and they usually come to pick you up from there. Saas-Fee is much smaller than Zermatt but still very large on the same time. Altitude offering is about the same, with skiing from 3600 meters all the way down to the village at around 1800m. You can ski over the glacier all year around but usually during summer skiing is limited only to professional athletes although I need to verify this.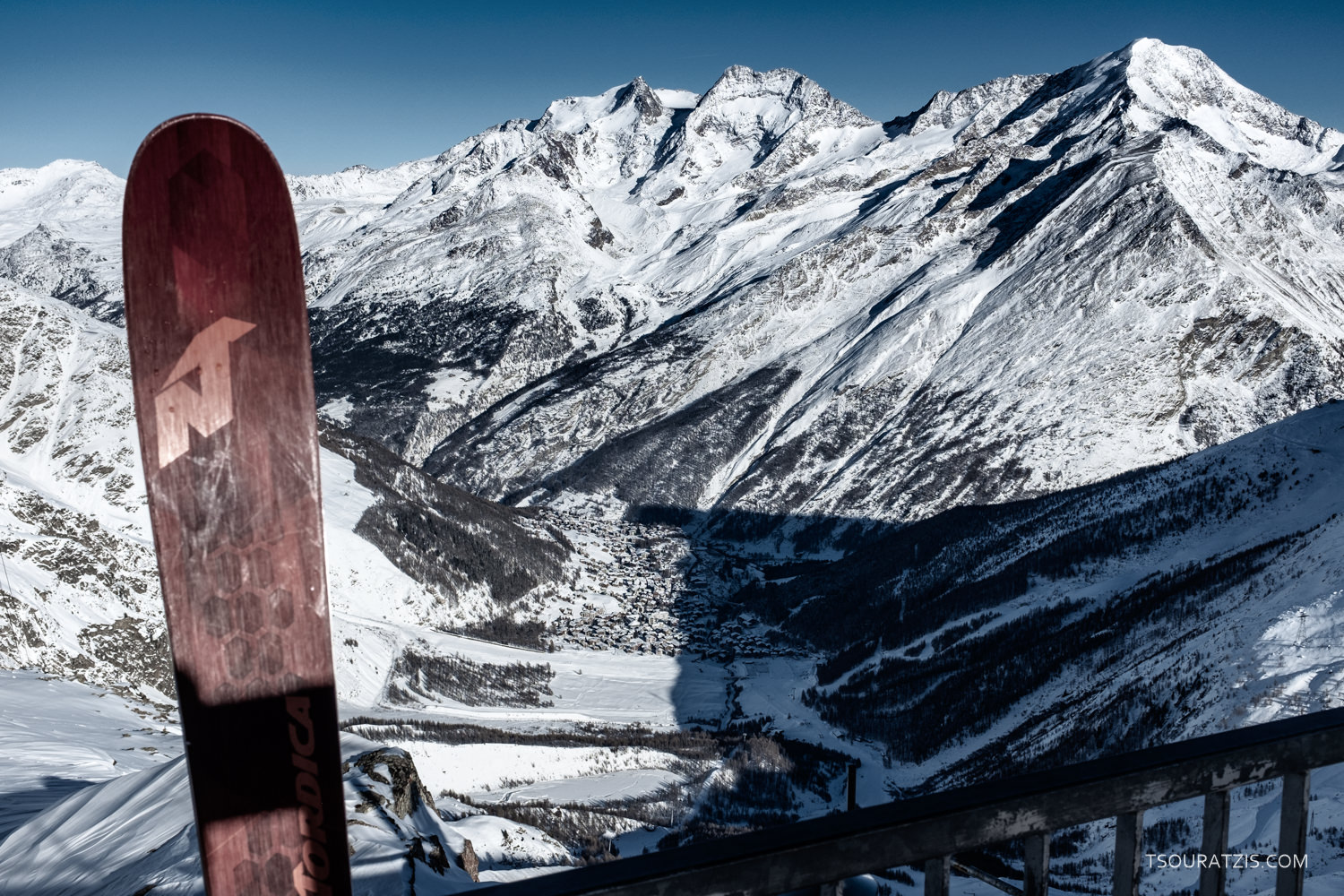 Saas-Fee village is surrounded by high altitude mountain peaks of the Swiss Alps, some reaching 4550 meters such as the Dom at 4,545m! Skiing there is really impressive and my goal for next time is to take the mountain train (there is a metro/underground train station at 3000+ meters, which is the tallest I think in the world!) reach 3,600 meters and ski almost a 2,000 meters altitude difference all the way down to the village! The Saas-Fee valley has two more ski stations which I have not visited yet, the Saas-Grund and Saas-Almagell, both are smaller than Saas-Fee but nevertheless on my radar for next year.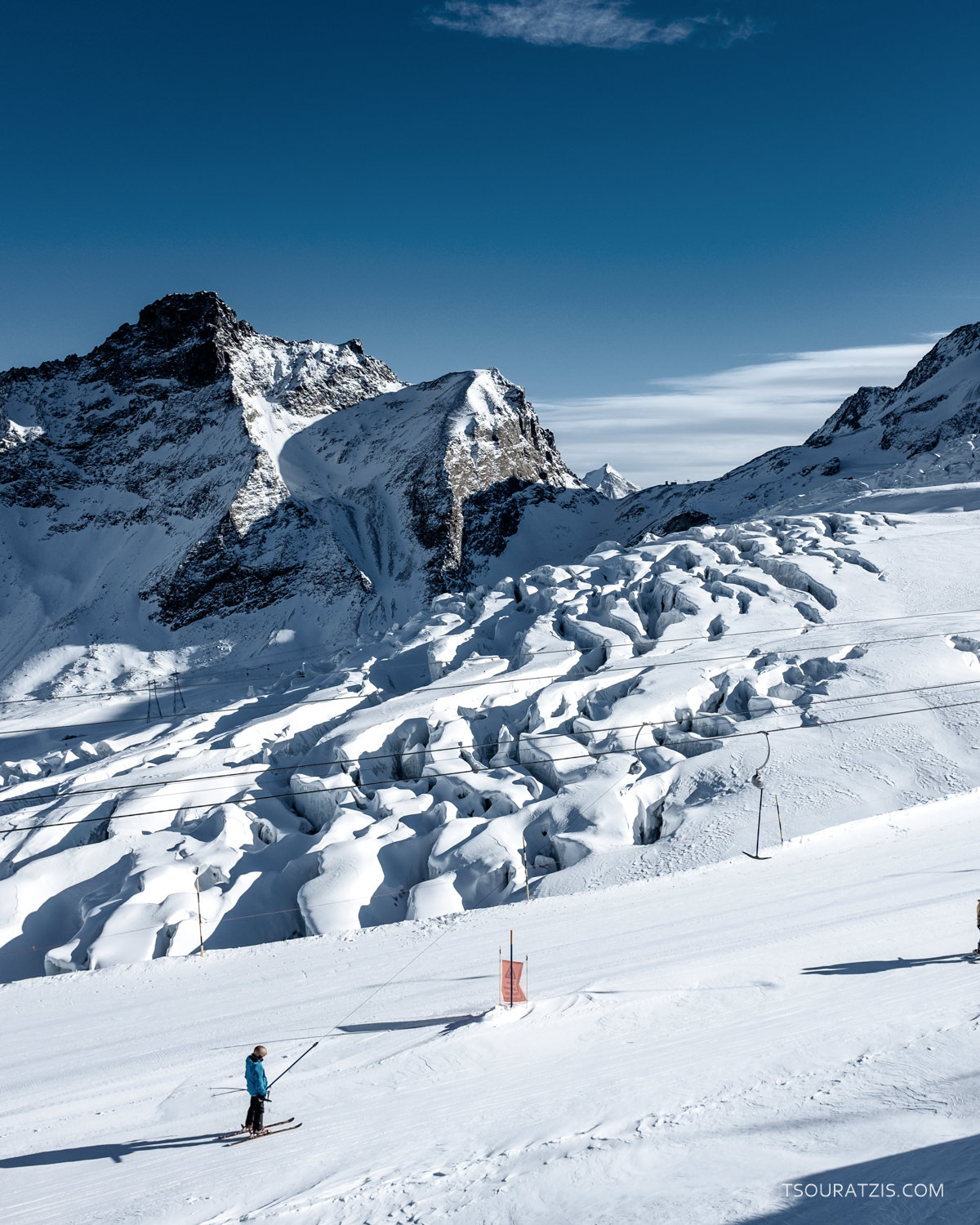 Another ski resort in the Swiss German speaking part of Valais is Laukerbad. It is famous for its thermal baths more than its ski area. The village its self is not as traditional as other places in Valais but there is a small part of it that has remained as it was many years ago and is really charming. In Laukerbad, if you don't like skiing you may still climb the mountains and enjoy the views. You can do so by taking the telecabine/gondola that will take you up to Gemmi pass region at around 2,400 meters.
On the one side as you exit, the views to the ski area and the village of Laukerbad are stunning and on the other you can walk all the way until the Dauben lake (Daubensee) or even further reaching Bern canton and other famous mountain destinations. Dauben lake offers a two hour hike around the lake that is definitely a must if you visit the area during summertime.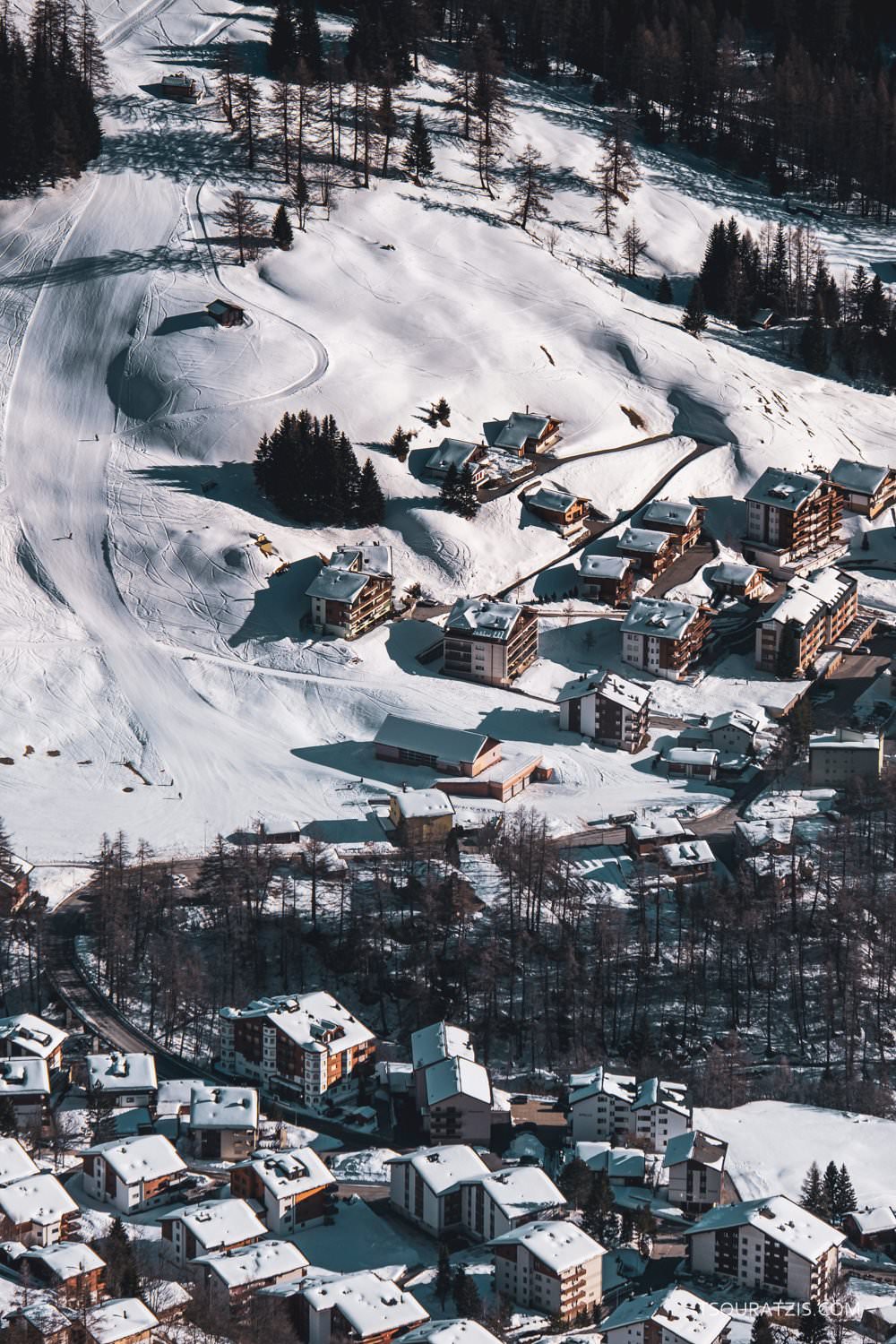 Other large ski resorts in Wallis, that I have not yet visited, are BettmerAlp part of the Aletsch arena ski domain, that besides Bettmeralp includes Lax, Riederalp, Fiesch and other. Bettmeralp has become famous in social media for its amazing and picturesque village of fully covered in snow wooden houses and chalets surrounded by the Swiss Alps and some amazing ski runs that also pass through the village. Aletsch arena area is also home to the famous Great Aletsch Glacier, a must visit landscape location that is also a UNESCO World Heritage Site!
Skiing in Zermatt and Bettmeralp is definitely on my ski resorts wish list for next year in Valais canton.
Concluding
This was just a short feature article about Valais ski resorts as there are so many things to do and write about that it would go beyond the scope of this story. I hoped to cover just the basics and give you an idea of the endless options when it comes to skiing in this part of the Swiss Alps. Valais is definitely a must visit area even of you do not ski because of the immense beauty of the mountainous landscapes literally packed in this area.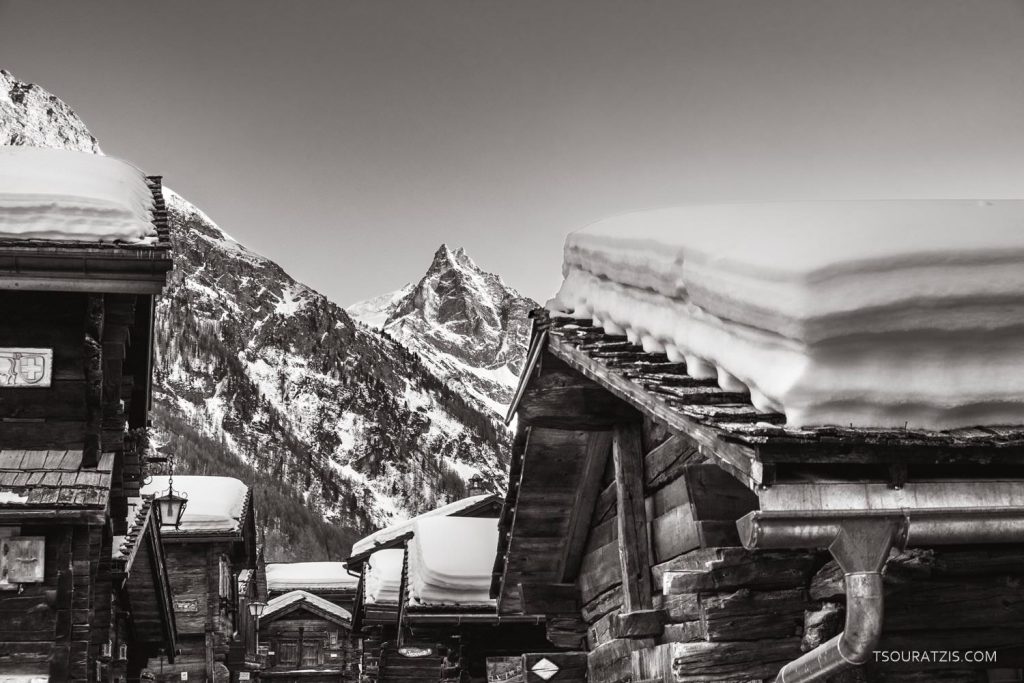 This is after all how I started falling in love with skiing. Initially, I just wanted to view, photograph and feel the energy of these stunning locations in the Swiss and French Alps. I generally love the mountains and this place in Europe is indeed blessed. Then, I realized that by skiing I will be able to reach many more places and get even more impressive views of these landscapes.
And it all came together.