SKIING ON TOP OF A GLACIER AT 3K METERS
Glacier 3000 ski station is considered small in terms of total kilometres of ski slopes. Nevertheless, it belongs to an elite group of ski domains offering skiing and snowboarding over a glacier at 3,000 meters with stunning views and ski quality that is hard to compete. In addition, due to high altitude it is one of the most snow sure ski stations and it attracts all level of skiers and snowboarders to to its variety of ski slopes.
Access-Map | Accommodation | Review | Photos | Video
We have visited Glacier 3000 four times all of which where in the springtime under bright sun and good weather conditions. Having a clear sky at such a high altitude is a unique experience as the panoramic view is simply breathtaking. You should not miss it from the Botta 3000 restaurant, we prefer it when we can have lunch or a coffee just on the terrace outside, and of course the legendary "Peak Walk" which is a walk on a unique suspension bridge that connects 2 mountain peaks.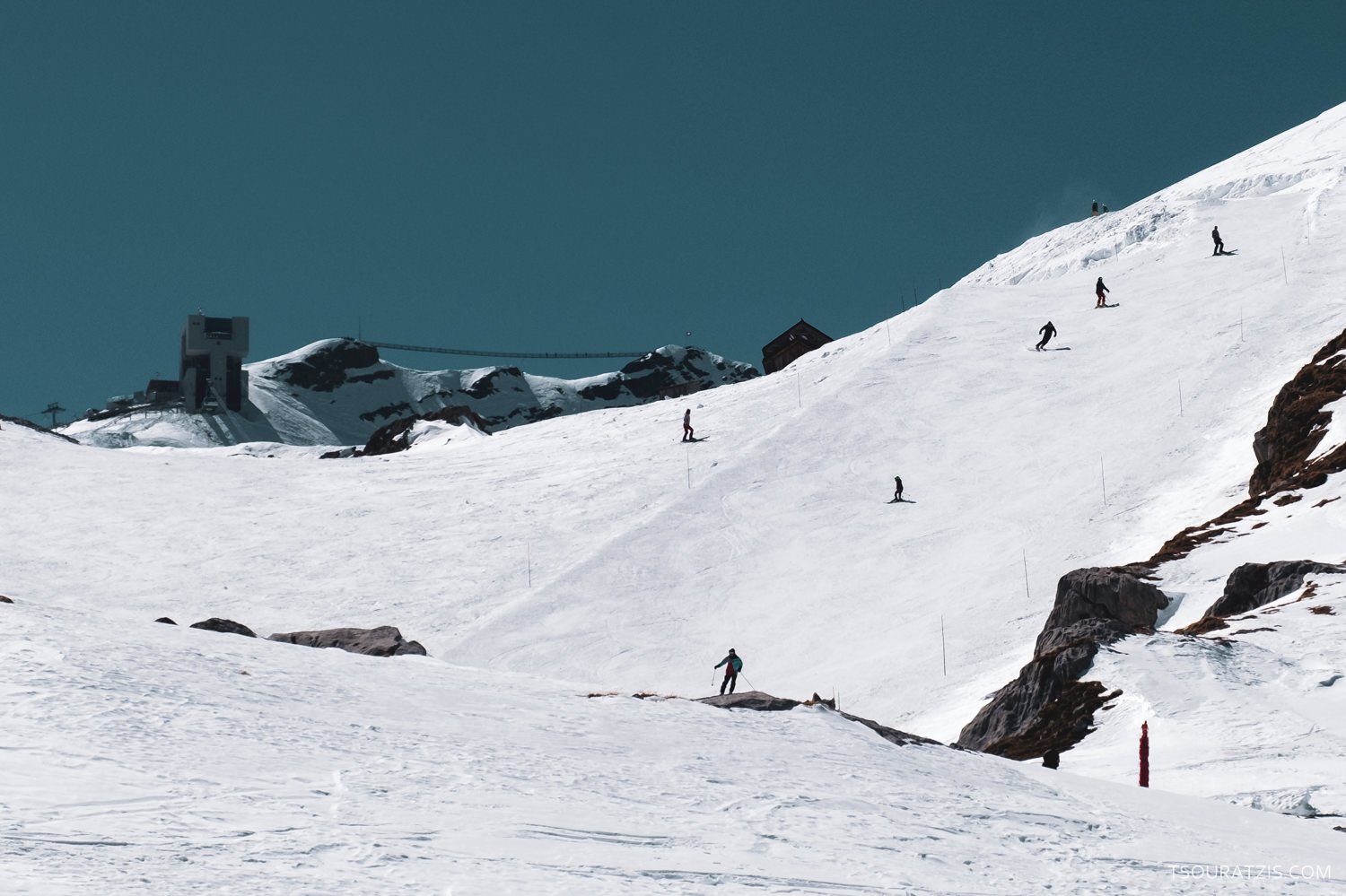 Access tips and map
In order to climb up to Glacier 3000 you need to take the cable car from either Reusch or Col du Pillon parking stations. The easiest and fastest is Col du Pillon since you only use two cable cars to reach the summit, called Scex Rouge at 2971 meters. This parking station is very close to Les Diablerets ski station main gondola and in around 20 km from Gstaad village and ski domain.
Driving distance/time to glacier 3000 ski station
| Glacier 3000 | KM | Time |
| --- | --- | --- |
| Lausanne | 66 | 0:55 |
| Sion | 76 | 0:53 |
| Bern | 124 | 1:19 |
| Geneva | 131 | 1:31 |
| Neuchâtel | 137 | 1:29 |
| Zurich | 246 | 2:32 |
View the exact location of the cable car at Col du Pillon route that will take you up in Glacier 3000 (first to Cabane location and then you take another cable car to reach your destination at Scex Rouge, Peak Walk also found there).
Exact location to Glacier 3000, Col du Pillon parking station and cable car.
46°21'13.2″N 7°12'20.4″E / 46.353668, 7.205656
Glacier 3000 ski station report
With 28 km of ski slopes Glacier 3000 is considered a small ski station in the Swiss Alps. Nevertheless, as we described above there are many additional reasons to take your skis or snowboard and reach this domain. For beginners or not so experienced skiers we would recommend the relatively flat part of the glacier itself where all the blue and easy slopes are found. We find this part of the domain a great place to warm up and get a first feeling of the tranquility and the beauty of this unique landscape.
The new red run in Glacier 3000
As soon as you feel more confident or just look for something more challenging, you should head to the brand new 'Red run' (it opened on 2018-2019 season). It starts from Scex Rouge all the way down to Oldenegg lift with a vertical drop of slightly more than 1000 meters!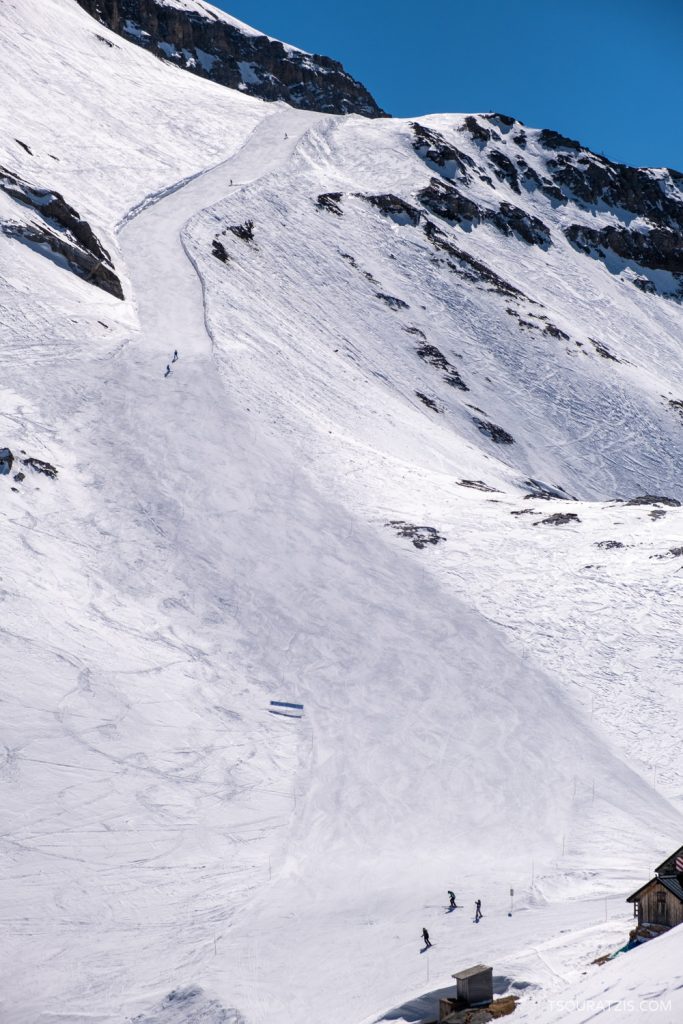 This new 'Red run' is an amazing red difficulty slope that extended the existing run called Martisbberg, that started from the Cabane, and really changed the ski quality of the Glacier 3000 ski domain.
It offers great views and skiing variety of all kinds. In the beginning, its very easy but then there is a long challenging red part that will take down to the Cabane.
From there, its steepness is just as much as needed in order to try almost all kinds of skiing.
Back in black, Olden slope
And now we move on to more advanced terrain and probably, and definitely for us, the most impressive part of the Glacier 3000 ski domain. This the section with the epic black run called Olden. If you feel comfortable with black runs then you should not miss this one. With an altitude difference of 800 meters and 3,5-4 km of length, this run will really impress you.
With the impressive steep rocks of the Sanetschhorn peak (2924 meters), feel free to ski all of its variations as there are at least 4 different ways to go through Olden slope until the Oldenalp chairlift lift at 1850 meters.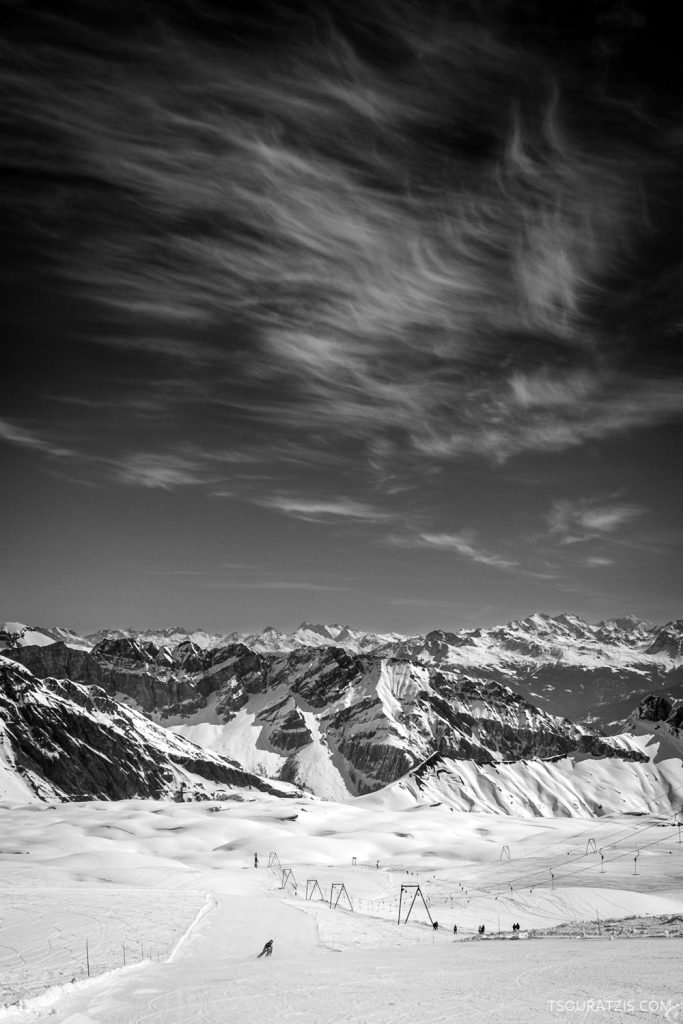 Valley run
Unfortunately we have not yet skied the black run that takes you back, pay attention here, to Reuch and not Col du Pillon parking area. This is a black difficulty slope and it is on our target list for next season.
Accommodation in Glacier 3000
Although there are no hotels or rooms to let in the glacier (fortunately) you will have plenty of options either on the villages of Les Diablerets, the closest to Col du Pillon, Leysin or even Villars and of course on the more famous village of Gstaad found only 17 km from Glacier 3000 cable car.
Glacier 3000 ski station review
Pros
Breathtaking panoramic views on the glacier part and nice scenery on the red and black runs.
Red and black runs with very high vertical and natural snow.
Cons
Blue runs on the glacier part have only t-bar lifts which after a number of times get you tired
Small ski domain although with the addition of the Red run this is much improved.
Verdict
Although a small ski domain, Glacier 3000 has many attractions that will probably make you, like me, a regular visitor.
additional Photos from Glacier 3000 ski domain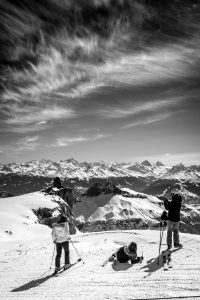 Drone video of the Peak Walk in Glacier 3000