Anzère ski station base and village is found at 1,515 meters of altitude with most of its slopes at around 2,000 meters. It is not the highest in Alpes Valaisannes (Pennine Alps) but it is enough to guarantee good snow conditions for most ski days. The central spot of the ski station is called Pas de Maimbre and is found at 2,360 meters.
Accommodation | Access to Anzère ski resort parking | Ski video from Anzère
There, you will find a big self service restaurant with a balcony offering great views to the Swiss Alps and the over 4K peaks and after getting your morning coffee you may either start your ski day with the amazing black run all the way down to the village, more below on 'valley run' section, or just start exploring the Anzere ski domain.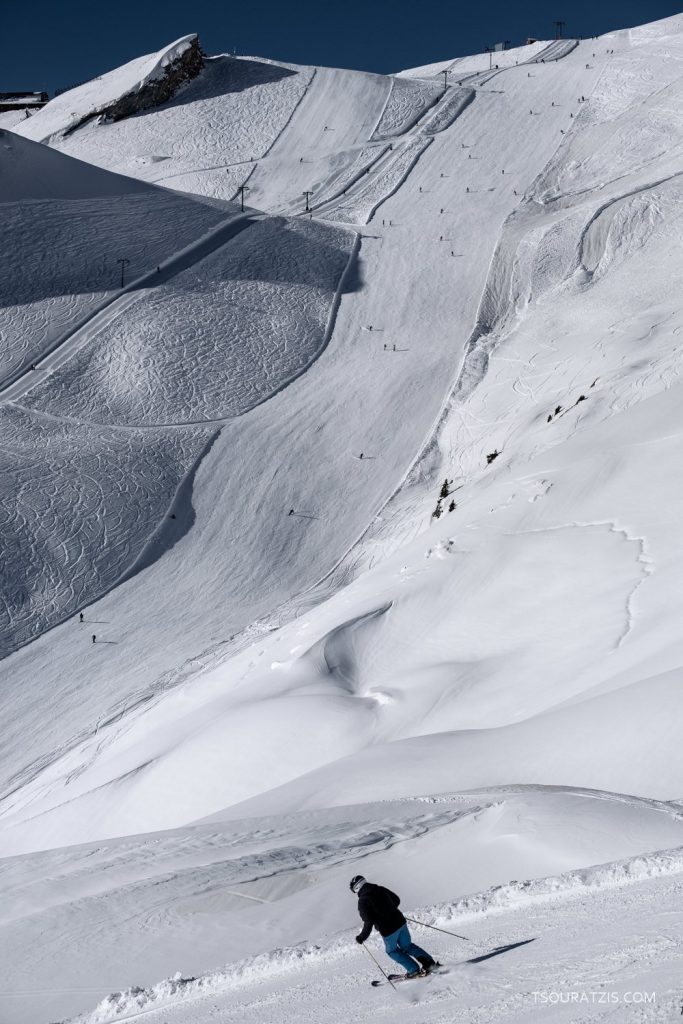 Exact location to Anzère ski station parking
46°17'40.5″N 7°23'40.7″E or 46.294585, 7.394634
Anzère ski station report
We have visited Anzère ski station twice crossing the ski area from west to east and vice versa a number of times until we got exhausted and did the challenging (especially in the end of the ski day) black run all the way down to the village.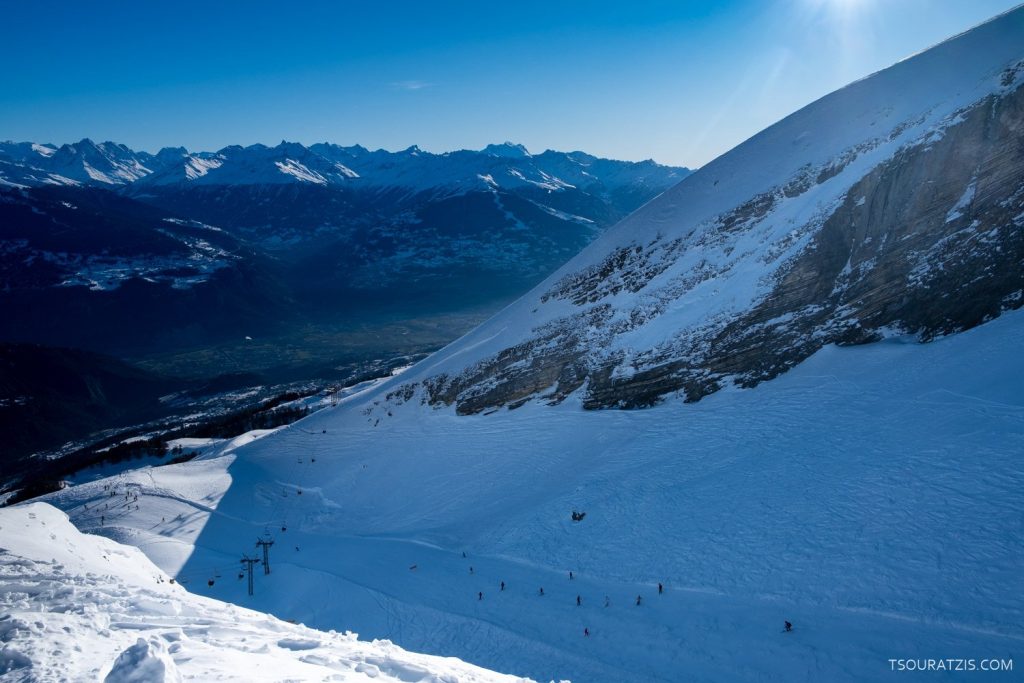 Leaving the valley run for later, we would recommend starting your day with red slope 'La Combe', all the way down to either to Les Grillesses or Tsalan 9, and from Les Grillesses to use two lifts and reach Le Bate at 2,420 meters. From there you will start an amazing and not to miss red slope descend of 650 meters all the way down to Les Rousses small parking area and lift, where you will also find a nice restaurant to barbeque your sausages, kind of hidden in the forest.
PROS
A big ski area with several challenging and joyful slopes.
Close distance to big the big Valaisanne cities.
Great view to the Rhone valley and the big 4K meters mountain peaks of the Swiss Alps.
CONS
What we did not like in Anzere is its ski lifts. One of the two times we were there, the old chair lift called 'Les Rousses – Le Bâté' on the east side did not work so we could not ski in one of the best areas. But even when it worked it is old, slow and on busy days it is the cause of huge queues. In addition, the two seats 'Duez-Le Bâté' chair lift that connects the west with the east ski station area, is one of the oldest and slowest lifts we have found on the Swiss Alps.
Moreover, long queues can be created on the much modern chair lift at Les Grillesses even on normal traffic day, signaling probably the fact that more installations are needed to be competitive and keep your customers happy at most times.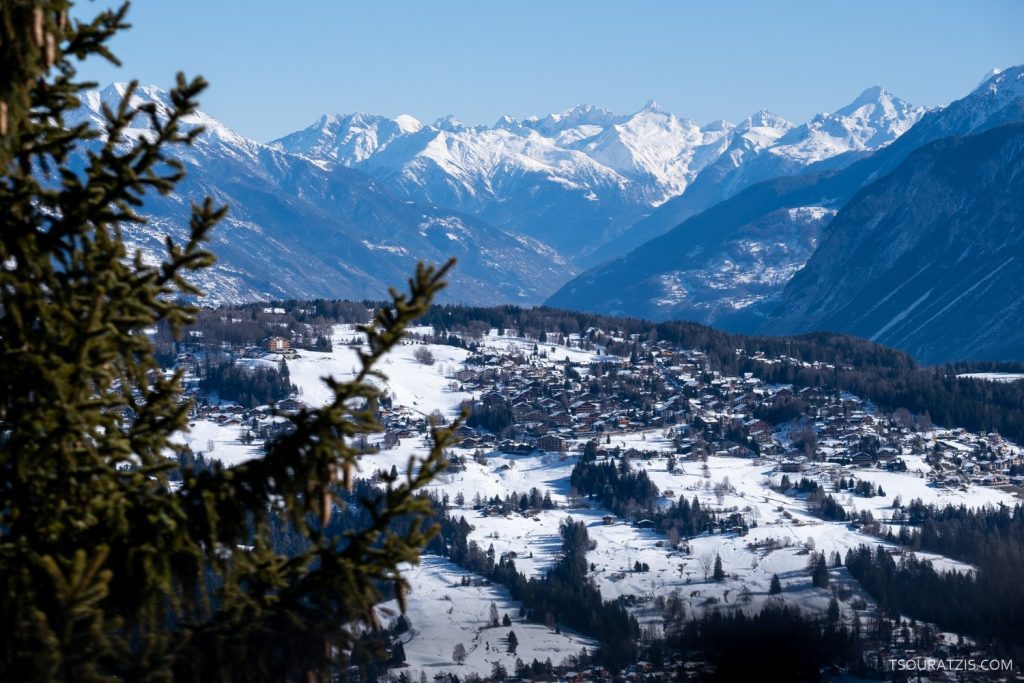 Valley run to ANZÈRE ski base
Anzère is one of the few ski stations we've visited with a black valley run. It a truly 'not to miss' slope called 'Les Masques' with a vertical of 850 meters. Its upper part is more red than black in terms of difficulty, then there is an easy blue part and the last one third (Les Masques inferieur) is the black difficulty part that is fortunately wide enough to keep you out of trouble when the slope is very busy by the end of the day.
We could also suggest to do this run first thing in the morning in order to enjoy it almost empty of other skiers but only after a good warming up/stretching session and taking it easy in the beginning in order to get used to the snow conditions of the day.
Accommodation in Anzère, Valais
Although Anzère will not offer you the variety found on its neighboring and famous ski resort of Crans-Montana, it not let you without some great options and most likely at a much lower cost than its renowned neighbor. Have a look at the booking map below and keep in mind that even if you find what you are looking for in the mountain, the big cities of Sion and Sierre are at such a near distance that staying there for one or two nights could be a great alternative.
Ski video from Anzère ski resort in the swiss alps (valais)