Les Diablerets ski station in the Swiss Alps offers some great ski runs with views to the Alps Vaudoises in western Switzerland. It is interlinked with Villars-Gryon ski area and as a result is part of the biggest ski area in canton Vaud and one of the largest in western Switzerland. As a bonus, being there offers you easy access to Glacier 3000 ski domain, found only 5 kilometres from Les Diablerets village and Gstaad village and ski domain at 22 km.
Access-Map | Accommodation | Review | Video | Photos
Driving distances and time table to Les Diablerets ski resort
| Les Diablerets | KM | TIME |
| --- | --- | --- |
| Lausanne | 67 | 0:56 |
| Sion | 77 | 0:55 |
| Bern | 125 | 1:20 |
| Geneva | 132 | 1:32 |
| Neuchâtel | 138 | 1:30 |
| Lucern | 154 | 2:17 |
| Zurich | 247 | 2:33 |
Access tips and map
Accessing the gondola (telecabine) called 'Diablerets express' that will take you up to the Les Diablerets ski area is very easy. From the highway it is around 30 minutes drive (23 kilometers) to reach the parking area and like in the case of Villars ski station, although you reach 1,200 meters of altitude the road has very few difficult turns and is comfortably wide.
View the exact location of the telecabine 'Diablerets express' that will take you up in Les Diablerets ski domain in about 7-8 minutes.
Coordinates to Les Diablerets goldola and ski station
46°20'54.3″N 7°09'15.8″E or 46.348409, 7.154381
LEs diablerets ski area
Les Diablerets ski station report
With the connection to Villars and Gryon it will take you probably more than one day to explore the ski area. In order to reach Villars you need to take the 'Conche-Mi Laouissalet' chairlift that will take you through a flat and calm route there. Enjoy the view to the mountains and the sea of snow right below. Always check operation times and be alert if wind starts getting stronger than usual because if this lift is closed you will have to do a long way around by bus or taxi in order to get back to Les Diablerets.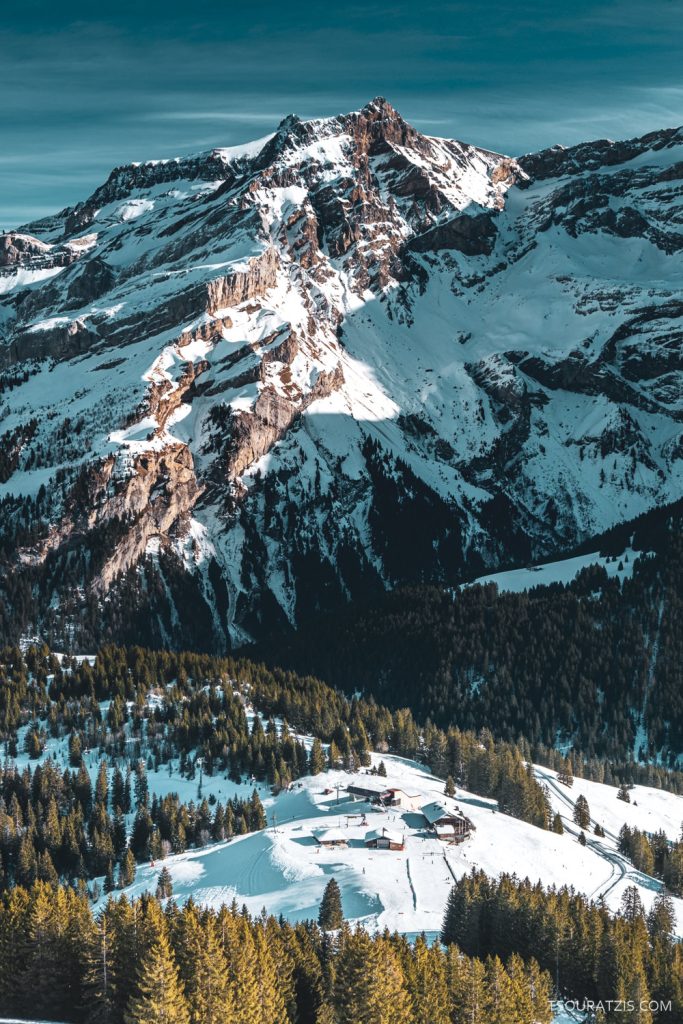 The main ski area in Les Diablerets is called Les Mazots and there you will find a self-service restaurant with great views if you sit outside but also a pique-nique hall that becomes really useful if you have your lunch with you and the weather is not good enough to enjoy your meal outside.
Regarding ski slopes, there are a few that are our favorable starting with the short red/blue run called 'Meilleret – Mazots' . This run offers one of our top ten views to the Swiss Alps (check image gallery and the image below) and in specific to Les Diablerets mountain massif (highest point: Sommet des Diablerets at 3,210 meters). Another great run is the blue called 'Ruvine P26' that starts from Les Mazots area and takes you down 2kms and around 400 meters in altitude. The t-bar there offers a long way back but you will probably ski this slope over and over.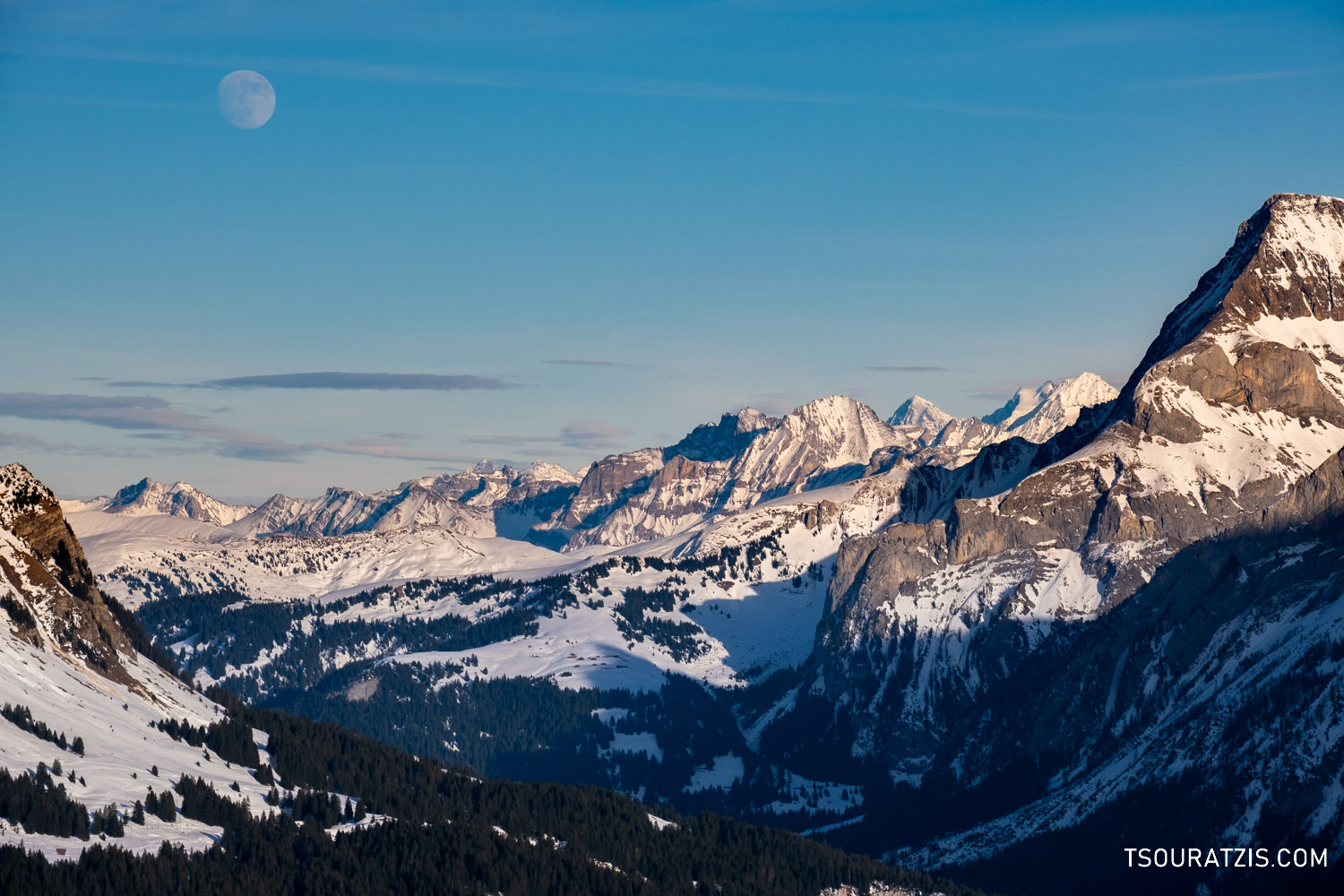 Valley run to Les diablerets base
Depending on snow conditions you may ski all the way down to the starting point of your visit to Les Diablerets, the 'Diablerets express' gondola. If you start from the Meilleret area (1950 meters) you will enjoy an almost 800 meter of altitude difference and its the best way to start or finish your ski day while cruising and carving on this beautiful blue run that takes you through the forest. If this slope is open or not is a determining factor for visiting Les Diablerets for us.
Accommodation in Les Diablerets
In Les Diablerets there are many accommodation options but you may also pick some other nearby villages in case you find something better or cheaper (preferably both). Close to Les Diablerets village you will find Leysin and if you want something more luxurious you may visit and stay in the renowned village of Gstaad located only 22 km (around 30 minutes) from Les Diablerets. The road goes through Col du Pillon mountain pass so you better check beforehand if this is open. Pick your dates and have a look at the available prices on the map right below.
Photos from Les Diablerets ski station in Alpes Vaudoise
Les Diablerets ski resort review and thoughts
PROS
Easy access
With the connection to Villars it is one of the biggest ski areas in Suisse Romande
Great views to Les Diablerets mountain massif
Good ski lifts
CONS
Average ski domain altitude (1950m-1170m) combined with recent warm winters created some unfavorable ski days.
VERDICT
Les Diablerets ski station is a great option for those visiting the Vaudoises Alps in the western part of Switzerland. Being on a central position and very close to Villars, Leysin, Glacier 3000 and even Gstaad village and ski domain, Les Diablerets can easily become your base for your ski visits in western Swiss Alps.
With one ski pass for 3 domains and being part of the MagicPass annual ski pass (available only for permanent residents and not visitors/tourists), Les Diablerets is one of the best value for money for your ski adventures.
Video from Les Diablerets ski resort in Valais, Swiss Alps