Grimentz is one of the most beautiful and traditional villages in the Swiss Alps but also a great ski station at a high altitude with snow sure conditions. It is located in Val d'Anniviers, a big alpine valley in the french speaking part of Valais canton (Wallis in Swiss German).
Access-Map | Accommodation | Review | Photos | Video
Discover GRIMENTZ, a gemstone in Val d'Anniviers
The ski station of Grimentz is part of the greater Val d'Anniviers ski domain ­that includes some great ski areas such as the neighboring Zinal (Grimentz and Zinal are interlinked with the Sorebois aerial tramway – telepherique), St-Luc/Chandolin found on the opposite side of the mountain range and Vercorin that is the closest to Rhone valley and the highway.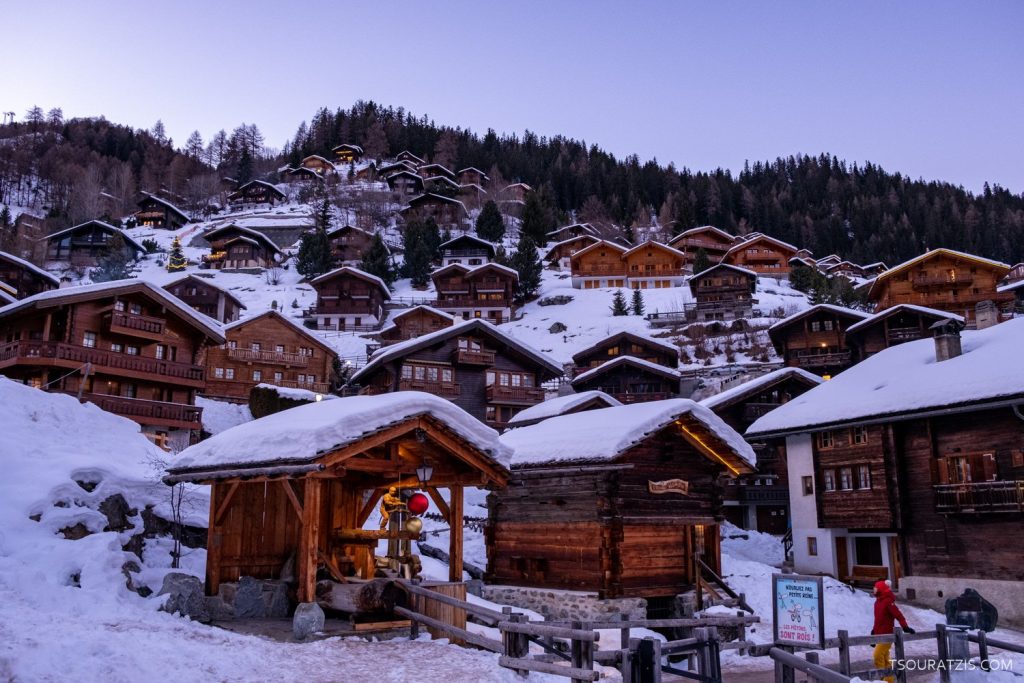 Access tips and map
In order to reach Grimentz ski station it will take you around 30+ minutes (22 km from the highway). The road has several hairpin turns, probably a little more than 15, and in several places it is narrow and needs attention. If you get behind a bus, it will probably take you longer to reach Grimentz village although many low speed vehicle drivers just slow down or stop in designated areas on the side of the road to let you pass and facilitate traffic.
Parking in Grimentz is easy although if you go late on a busy ski day you may need to walk some distance before getting to the gondola. There are ticket machines on all parking areas (hourly charge, Info added in 2020) . Bear in mind that there is a small parking spot right next to the main gondolas. To my knowledge, this is for local residents and not to be used by skiers/snowboarders. Parking stations for visitors are located on the central street (route de Moiry, check provided map below) and not next to the ski pass ticket offices and telecabines.
Driving distances from various Swiss cities and time table to Grimentz.
| Grimentz, VS | KM | hour |
| --- | --- | --- |
| Sion | 40 | 0:32 |
| Lausanne | 133 | 1:28 |
| Bern | 190 | 1:53 |
| Geneva | 198 | 2:05 |
| Neuchâtel | 203 | 2:03 |
Coordinates to Grimentz ski station parking
46°10'30.5″N 7°34'25.7″E or 46.175133, 7.573801
Griments and Zinal ski stations map
Grimentz ski station report
Grimentz is one of our favorite ski stations and there are many good reasons for this. First of all the ski slopes are really great and what do we mean by that. They are for all kind of skiers ranging from easy blues to some demanding but not a lot blacks. In general they are wide, long, offer great views to the Swiss Alps and usually not very crowded. In addition, snow is usually guaranteed and in good condition due to station's orientation and high altitude.
Ski station's base is at 1,600 meters and the highest point reaches almost 2900 meters with more than 90% of the ski runs being between 2900 and 2100 meters. Finally, the addition of the brand new (operating from 2019-2020 season) 'Col du pouce' chairlift, has eliminated time spent on the not so comfortable t-bars and has increased overall lift quality by a lot.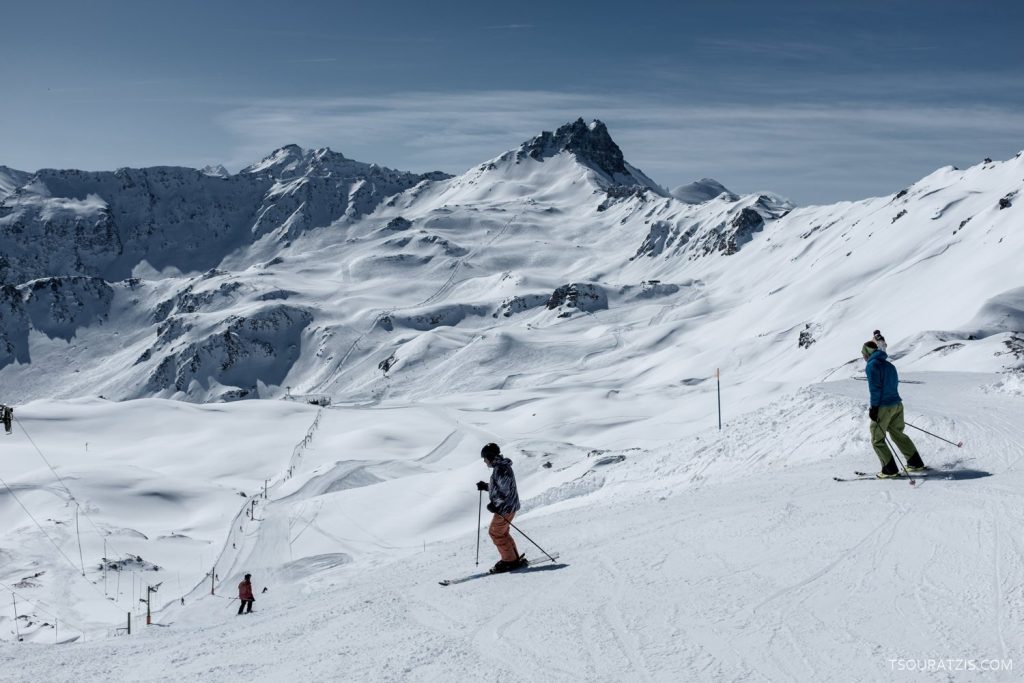 If we could give you one recommendation it would be that: take the Col du Pouce lift and ski on your left Tsa superiere slope until the Lona 2 platter lift that will get you up at 2800+ meters. From there you start your descend with Tsa superiere, Tsa inferiere and in the end of it you pick either the blue or the black run that will get you to the Bendolla upper base.
This is an almost 700 meter of altitude difference and if you want more just read below. (Valley run to Grimentz ski base)
Short review of Grimentz ski station
PROS
High altitude and snow sure conditions
Great views
Excellent slopes and good lifts
Located in an alpine valley with a lot of nice villages and great ski stations
CONS
The road from the highway is not one of the easiest with a lot of hairpin turns but in general this is not a great deal of a problem.
VERDICT
Grimentz is one of the best ski stations in Val d'Anniviers and coupled with the beautiful village right next to the ski lifts, it gives us a strong candidate for our to-go list for next season.
Video from Grimentz while skiing around this amazing ski station
Valley run to Grimentz ski base
From Bendolla upper base there are two ways to go down, either by the red run called Foret or the blue called Avoin. We have taken the red and although its no the most amazing or longer valley run it is nice to find your self a little bit between the green alpine forests as most of Grimentz station due to high altitude is on high alpine barren zone. So, if you follow our recommendation above and start skiing from Tsa superiere at 2,800 meters you will ski 1,200 meters all they way down to station's base!
As a bonus and if you are not tired by the end of the day, of course you may ski this any other time but we usually leave valley runs for the end, you may try a shortcut on the red run Foret and that is the black slope called Mayes. This is a short but demanding black that can be bumpy by the end of the day, so be extra careful with it.
Accommodation in Grimentz
We definitely recommend visiting Val d'Anniviers area and ski domains for longer than one day trip periods. As a result, Grimentz is an excellent place to spend your night(s) in order to have enough time to explore the traditional and really picturesque village with its old wooden houses and the pedestrian street with the water mill and some stores offering delicious local products such as cheese, meat and other.
Select your dates on the map below and view available accommodation offers.
Griementz village and ski station photos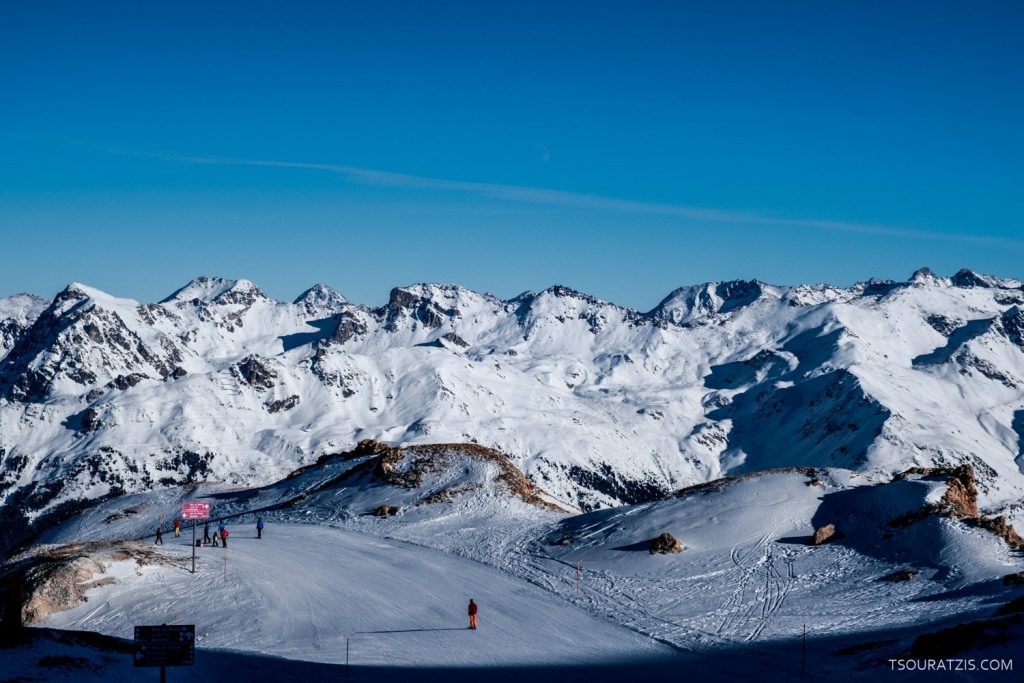 Ski video from ZINAL ski resort
Zinal ski station is connected with Grimentz with the black run of Chamois. You can ride this from Zinal ski station and in specific from Corne de Sorebois chairlift at 2,876 meters all the way down to Grimentz village at around 1600 meters.
On the video below, i have recorded my descent from the Corne de Sorebois chairlift not to Grimentz but to the village of Zinal. This is a 1200+ meters of altitude difference with blue, red and black runs on your way. The black one on the lower part of this route is really challenging but you may use the red on its side if you are not feeling confortable. Still, as this is rather a narrow countryside dirt road, it can be a little hard if its crowded.