Time to read: 6 minutes
One of the many purpose built French ski stations of the 60's that managed to stand out due to its love or hate architecture, Flaine ski station and resort made its name by becoming a ski spot heavily investing not only on ski infrastructure but also on different forms of art.
Flaine opened to the general public in 1967, offering 30 kilometres of groomed slopes and the first in Europe snow making facilities. Nowadays, it is part of the huge Grand Massif ski domain where you will find 265 km of ski slopes with a little less than half of them located in Flaine ski station.
Access-Map | Accommodation | Review | Photos | Video
Art and architecture in flaine
At the heart of the ski station, you can admire the outdoors museum with modern art works of Vasarely, Picasso, Dubuffet and Bury and visit its Art center and library.
In terms of architecture, it was Marcel Breuer that designed and supervised the whole project. Being an highly decorated architect with many Bauhaus projects already completed, he created with the help of the visionaries Eric and Sylvie Boissonnas, who discovered Flaine site in 1959, a modern if not futuristic ski resort focusing on integrating its architectural style into the mountainous landscape.
It may help visiting the 'Désert de Platé' (accessible during summer) at Les Grandes Platieres and check the landscape in order to come closer visually and aesthetically to their vision. Nevertheless, Flaine remains even today a unique sample of a daring architectural project applied on a ski resort. You may leave us a comment or a review below to tell us if you like it or not.
Discover the creation of Flaine
Video is available only in French
Access tips and map
From Geneva to Flaine you will need around 1:15h although it is only 70 km drive, with most of it on the highway. Nonetheless, it will take you longer than usual because of the many hairpin turns you will find after quitting A40 motorway. If you like driving and exploring the mountainous area until Flaine this is not a problem but for us who have driven this road more than a couple of times, it was far easier to park in Les Carroz and then ski all the way to Flaine.
Of course this will require having the Grand Massif instead of the only Flaine ski pass but the price difference is not big and it offers you the freedom to navigate all around the ski area. Plus the option of skiing one of the longest ski runs called Cascades. But more on this on our ski report just below.
Driving distances and time table to Flaine village and ski station
| FLAINE | KM | Time |
| --- | --- | --- |
| Chamonix | 64 | 1:15 |
| Annecy | 92 | 1:22 |
| Geneva | 70 | 1:16 |
| Grenoble | 192 | 2:20 |
| Lausanne | 147 | 1:54 |
| Lyon | 220 | 2:33 |
Exact location to Flaine parking station plus additional ski stations in the Grand Massif ski domain
46°00'23.2″N 6°41'23.0″E / 46.006444, 6.689722
Map with grand massif ski stations
Flaine ski station report
With 64 runs for all levels, Flaine is a ski paradise. Most of these runs are found on a mountain side that looks like a giant bowl with its top at 2500 meters and its bottom 900 meters below. All this area is covered with ski lifts and runs of mostly red and black grade although you will also find some great blue runs.
You will get on top of this bowl by taking the Grandes Platieres gondola/cable car and from there you after enjoying the unique views to the Alps and in specific to the impressive Mont Blanc dome, you can either go left or right on the flat zone from where you will decide which run will take you down to the base or the rest of the ski area.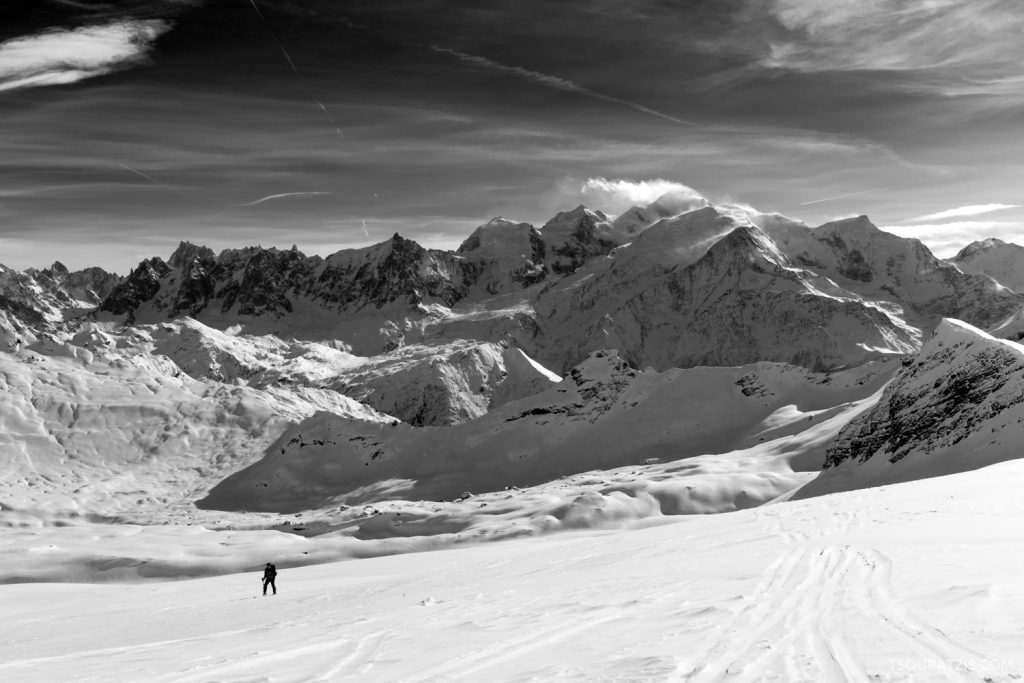 Flaine ski resort review
PROS
Wide runs for all level skiers
Love or hate architecture
Free to access outdoor modern art works
Close view of the impressive Mont Blanc
Interlinked with more traditional Alpine ski stations of the Grand Massif domain
CONS
Love or hate architecture
Many hairpin turns after leaving the highway
VERDICT
Flaine is a unique ski resort due to its Bauhaus architecture and its love for modern art. Its ski station is superb with runs for all levels, great views to the Alps and connection with traditional Alpine villages that build up the picture of the Grand Massif ski domain.
Ski one of the longest blue runs, the Cascades
In addition, from Grand Platieres you also have the opportunity to take the 14km long blue run called Cascades. This starts after skiing on the flat section on the left of Grandes Platieres (a blue run called Serpentine) where you will find on your right.
Cascades run offers great views to the Alps and the feeling of skiing in both Alpine zone landscape as well as inside the forest as you gradually lose altitude reaching the end at some 1,750 meters below and in specific in the small ski station with the peculiar name Sixt-fer-à-Cheval.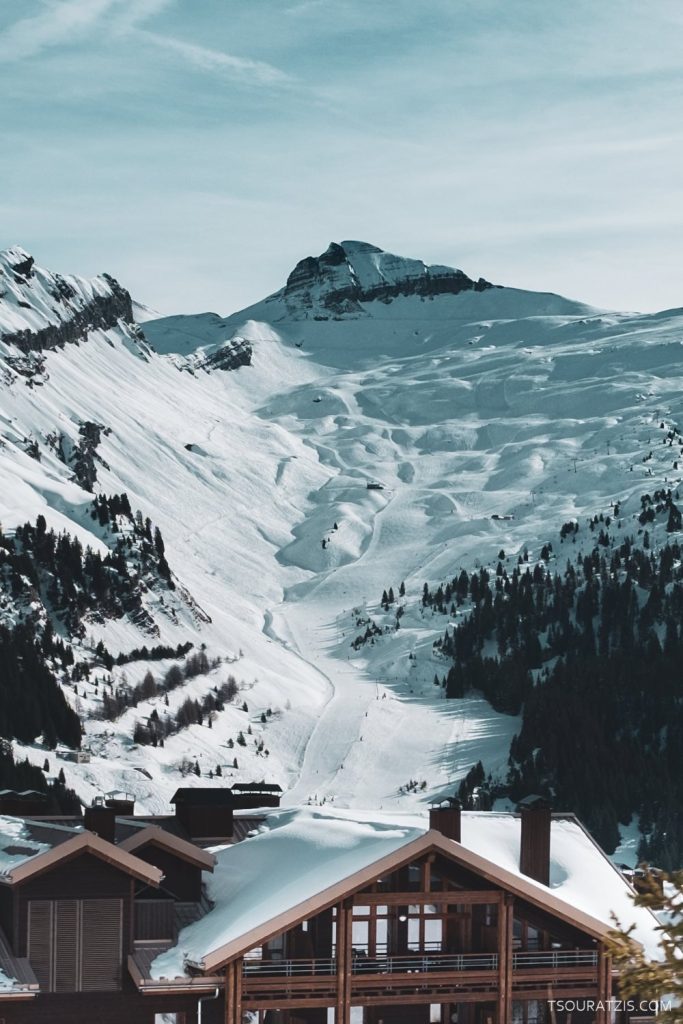 Please notice that there is a free shuttle bus that will take you from there to Samoëns ski station and in specific to 'Grand Massif Express' cable car. Grab a ski map and navigate your way around grand Massif to find your way back to Flaine. It is easy but in our case we made it a little complicated as we started skiing in all directions almost forgetting that we had our car on Flaine parking station.
We remind you that in order to do all this you need a Grand Massif and not just the Flaine ski pass. It is definitely something worth your time and a few extra euros less on your wallet.
Valley run
Theoretically, all runs from Les Grandes Platieres can be considered valley runs as there is always a way to reach the base and the ski resort found at 1,600 meters. As we already described above, a far more interesting option is the 14 km blue run Cascades but this will not take you to Flaine but to Sixt-fer-à-Cheval.
Accommodation in Flaine ski resort
Pick your dates and check available accommodation options for your stay at Flaine ski resort.
Flaine's architecture style is an attraction by its self. This unique mountainous urban experiment is a very popular destination so booking your accommodation in advance is a wise think to do.
Additionally, you may find more traditional housing options in the broader area of Grand Massif in the ski stations and villages of Les Carroz, Morillon and Samoëns.
Photos from flaine ski station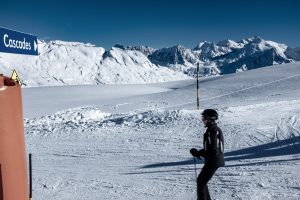 Video from flaine ski station