Time to read: 9 minutes
Do you want to ski or walk on the mountain, have lunch and dinner on the same day in two countries? Châtel is the ski station where you can easily do both without even knowing. It is a french ski village and ski resort at 1,200m, located just 3 kilometers from the Franco-Swiss border (click to view national borders) at the mountainous area called Pas de Morgins, right after the Swiss village of Morgins.
It belongs to one of the biggest ski domains of the world, that of Portes du Soleil, and is connected with the small Swiss ski station of Torgon, a part of the Swiss station Morgins and of course with the big name in the Portes du Soleil, the French ski resort of Avoriaz.
Accommodation | Access | Review | Photos | Ski video from Châtel
One pass, two countries SKIING
Châtel ski station has a long history and tradition in skiing with its first drag lift installed right after the end of WWII in 1946. Since then, there is a constant stream of investment to this ski station making in it one of the best in terms of ski lift quality. Just to mention here that in 2019 a brand new 6 seat modern lift replaced the old and heavily queued Morclan lift making a huge difference in wait time and overall skier experience.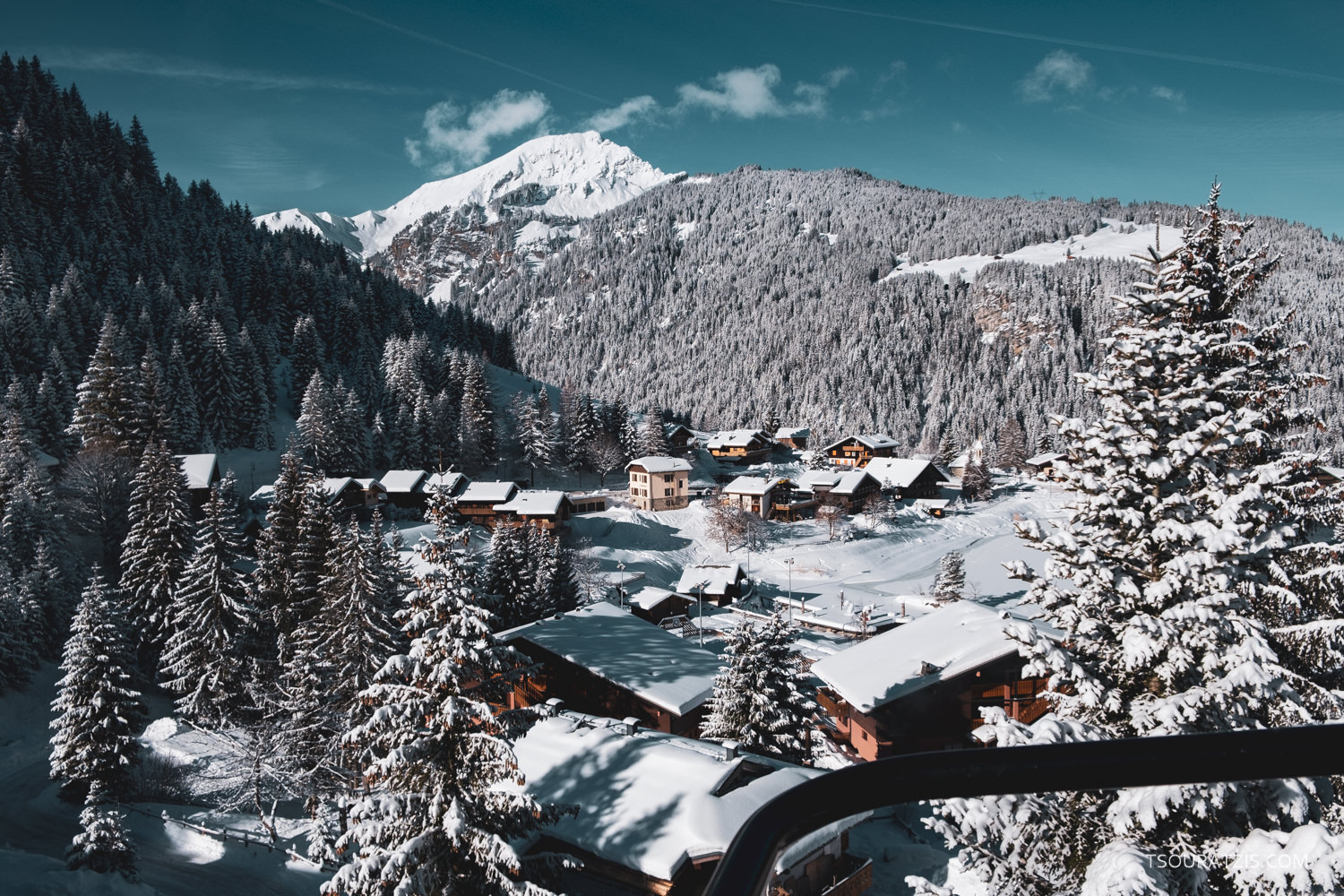 Finally, we were told that most likely in the following (2021) or the next couple of years, the equally old and slow Conche chair lift will be replaced as well. This would have already be in place but Conche lift is typical of Châtel's character as it starts in France and ends in Switzerland (you literally fly over the Franco-Swiss border). We can only guess that this mixture of bureaucratic procedures from two different countries can slow down things by a lot!
These latest developments show how much Châtel is investing on user experience and the it most likely reflects the belief of its manager that less time waiting for old, slow and most of the times malfunctioning ski lifts can increase the competitive advantage of a ski station and we can only welcome this kind of updates.
Don't forget that you need a Portes du Soleil ski pass if you also visit Avoriaz from Châtel. If you don't, then you need the Espace liberte ski pass that gives you full access to Châtel ski area. (info from 2020)
Access tips and map of Châtel ski station
The easiest way to reach Châtel is from the Swiss highway (click to view screenshot) that connects lake Leman (or lake Geneva) with Valais canton and its capital Sion. From the Swiss highway it is only 21 km away from the St.Tryphon exit.
Most of these 21 km are easy although there are just a few mild hairpin turns on your way as you ascend to Pas de Morgins at 1400m in order to reach Lac de Vonnes (lake Vonnes). Lake Vonnes is is the entrance to the Châtel village and there you will find the double ski chair lifts that take you to Châtel ski station's major sectors, these of Super-Châtel and Linga sectors.
Alternatively, you may reach Châtel from Abondance valley (famous for the delicious cheese that comes after its name) which can be a problem on snowy winter days.
Driving distances and time table to Châtel village and ski station
| Châtel | KM | TIME to destination |
| --- | --- | --- |
| Lausanne | 71 | 1h00′ |
| Geneva | 72 | 1h21′ |
| Chamonix | 87 | 1h17′ |
| Annecy | 116 | 1h44′ |
| Grenoble | 216 | 2h42′ |
| Lyon | 228 | 2h51′ |
Exact location to Super Châtel gondola lift.
46°16'00.7″N 6°50'31.0″E || 46.266871, 6.841952
Châtel ski area map
Châtel's parking areas:
In the village (underground, parking ticket required)

Linga

Petit Châtel

Lac de Vonnes

Pierre longue (closer lift to Avoriaz ski station).
Châtel ski station access points
Châtel is big ski station that occupies a large geographical area. As a result, there are many entrance points to it and consequentially to Portes du Soleil. The first one is Lac de Vonnes, a very small lake usually frozen in winter, where you can park your car and have direct access to either Linga or Super-Châtel sectors.
The next one is Super-Châtel telecabine (gondola) but you will need to park on the underground payable parking and walk 200 meters. Early in the morning it can become busy with many school students queuing there. Another way to hit the slops is by parking at the Petit Châtel area and chair lift. There is limited parking capacity there so you better avoid it on weekend if you are not early in the morning. Petit-Châtel lift will take you up to the Barbossine area, from where you will have to take another chairlift to start skiing. Not ideal we know but good you have this option as well.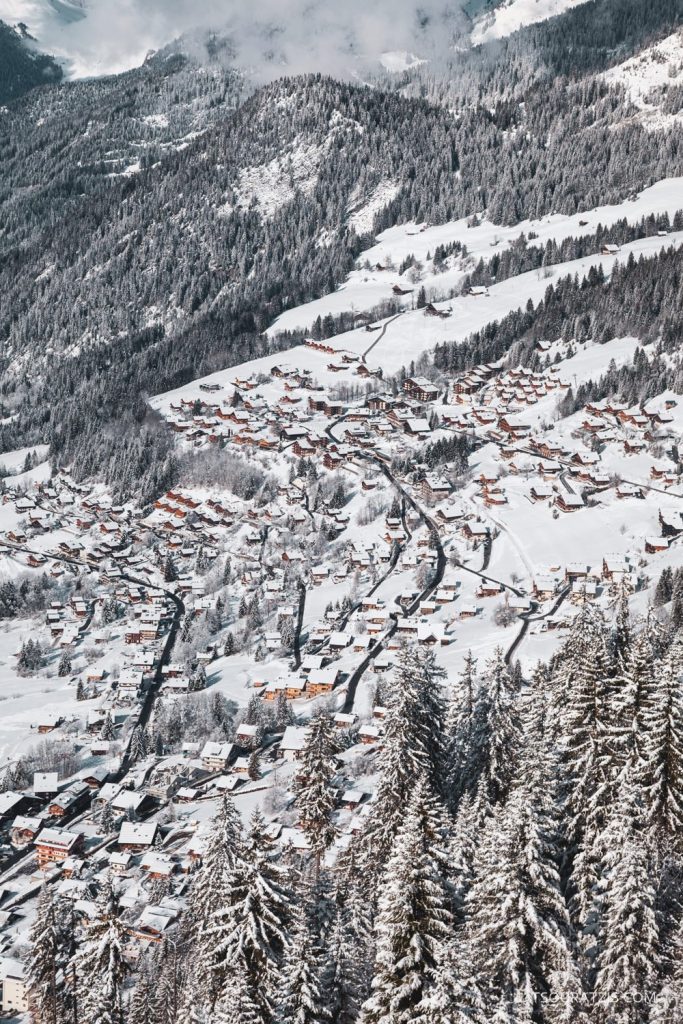 Then we move geographically on the other side of Châtel ski station, where you will find Linga sector. There is a relatively large parking area, a gondola to take you up and a restaurant plus many ski stores for your winter and ski equipment rental or purchases.
Finally, if you want to also visit the famous ski resort and station of Avoriaz, maybe the Pierre longue ski lift and parking station is a great option. There is a big parking area and the chairlift that will take you to Plaine Dranse plateau (full of ski lifts and nice restaurants for most kinds of tastes). From there, chairlift Rochassons will transfer you to Avoriaz ski station.
CHÂTEL SKI STATION report
Super-Châtel is probably the busier ski area in Châtel. If we start our ski day from there we usually don't stay there for long but we either go to the ski area close to Morgins or to Barbossine and eventually Torgon. In both cases you will start skiing in France and end up in Switzerland. Last year we visited a restaurant where we paid with euros and got our change in Swiss francs (CHF). We were in Switzerland but as the language and of course the mountains are the same, we didn't even understand we had changed country. On this sector, you can find some great and long blue slopes with nice view to Dent du Midi mountain range.
In Barbossine, the area over Petit Châtel, the same is true. You can ski on both countries and the Swiss area is called Torgon. There is a spot on top of Tronchey chair lift that you can enjoy the view to Lac Leman and Montreux Swiss city. Torgon is a small but playful area where Lynx red slope is our preferred run.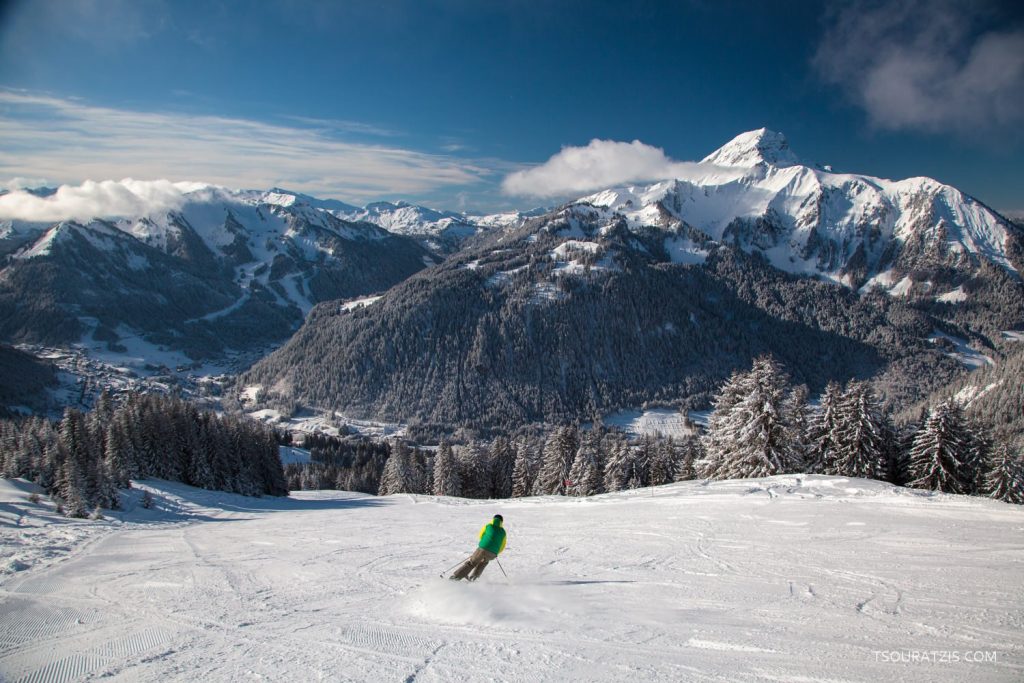 On the south west part of Châtel ski station you will find Linga and Pierre longue ski sub sectors. It is a large and very nice ski area with slopes from 1,150m to almost 2,100 meters with many red runs but also some great blues. Although this is not very high, their north orientation will keep them in better conditions compared to the rest of the ski area.
Linga red slope is one of our favorites on the French Alps in general. It is a steep 4 km red run that can become sometimes icy but we still love it because it gives you the chance to rest your feet at regular intervals. In addition, the closer you reach the end you may 'cheat' by following a couple of blue runs that relieve some of the pressure accumulated on your feet after the top-middle intensive part.
Valley run to Châtel base
One of the best ways to finish your day is to start from the top of Cornebois lift, and ski the red called Rennes, pass through Plaine Dranse and continue with the red Rochassons that will get you to Pierre longue parking station.
This is an 800 vertical drop with the last part taking you mildly though the forest to relax and contemplate how much you love skiing on the white mountains 🙂
Accommodation in Châtel ski resort
Pick your dates and check available accommodation options for your stay at Châtel ski resort.
In general, Portes du Soleil is a very popular ski destination, no wonder as its one of the biggest domains in the world, so be alert and book in advance if you want to save some or a lot of euros. Have a look at Portes du Soleil region accommodation options.
Images from Châtel ski resort in 'Portes du Soleil' domain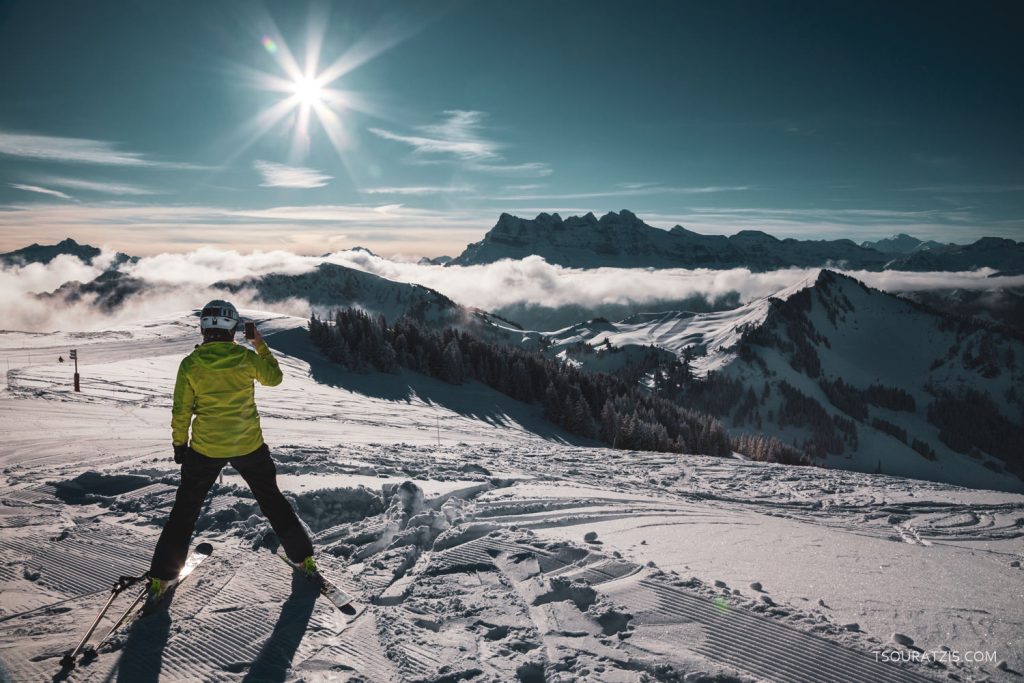 Châtel ski station review
PROS
Large domain for all level skiers
Great views
Many apres ski options on the village
Replacement of central ski lifts has reduced waiting time.
CONS
Due to moderate altitude and last two warm winters, some days snow was wet even on highest slopes
Village can get some traffic by the end of each ski day
VERDICT
Châtel is a ski resort famous for its large ski area and its lively village. Although, part of the massive Portes du Soleil ski domain you may not even need to exit its boundaries as it will take you more than a couple of days to explore it all.
ski video from Châtel ski resort
After a moderate snowfall early in the morning everything turned powdery. This video shows part of the Linga section (and a small section of the Linga red run in the end) that is also connected to its "big brother" at PDS, the world famous and purpose built ski resort of Avoriaz.